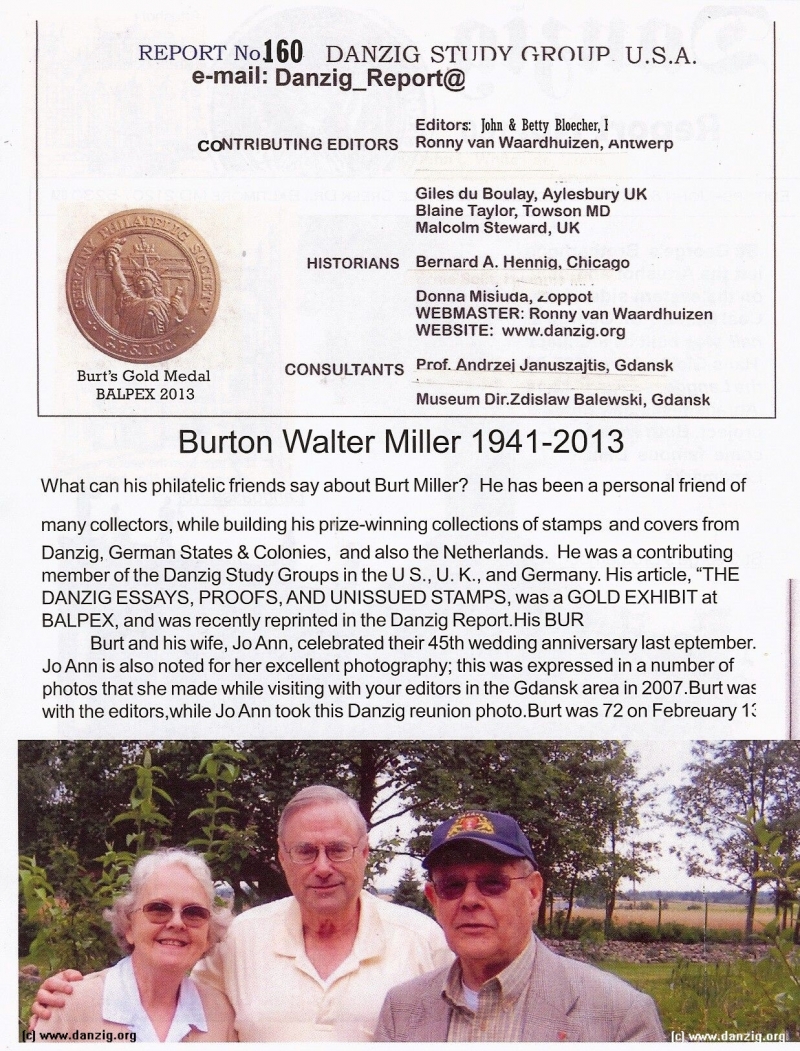 DANZIG REPORT No 160     DANZIG STUDY GROUP, U.S.A.

e-mail: Danzig _Report@ Verizon.net

CONTRIBUTING EDITORS
Editors: John & Betty Bloecher,
Ronny van Waardhuizen. Antwerp
Giles du Boulay, Aylesbury UK
Blaine Taylor, Towson MD
Malcon Steward, UK

HISTORIANS
Bernard A. Hennig, Chicago
Donna Misiuda, Zoppot
Webmaster Ronny van Waardhuizen
WEBSITE: www.danzig.org

CONSULTANTS
Prof. Andrzej Januszajtis, Gdansk
Museum Dir Zdislaw Balewski, Gdansk

Burton Walter Miller 1941-2013
What can his philatelic friends say about Burt Miller? He has been a personal friend of many collectors, while building his prize-winning collections of stamps and covers from Danzig, German States & Colonies, and also the Netherlands. He was a contributing member of the Danzig Study Groups in the US., U.K., and Germany. His article, "THE DANZIG ESSAYS, PROOFS, AND UNISSUED STAMPS, was a GOLD EXHIBIT at BALPEX, and was recently reprinted in the Danzig Report. His BUR

Burt and his wife, Jo Ann, celebrated their 45th wedding anniversary last September. Jo Ann is also noted for her excellent photography; this was expressed in a number of photos that she made while visiting with your editors in the Gdansk area in 2007. Burt was with the editors, while Jo Ann took this Danzig reunion photo. Burt was 72 on February 13. 



Danzig Report   Nr. 160 - 2nd Quarter 2013, Page 2.
Hits: 1598

Added: 13/08/2015
Copyright: 2023 Danzig.org