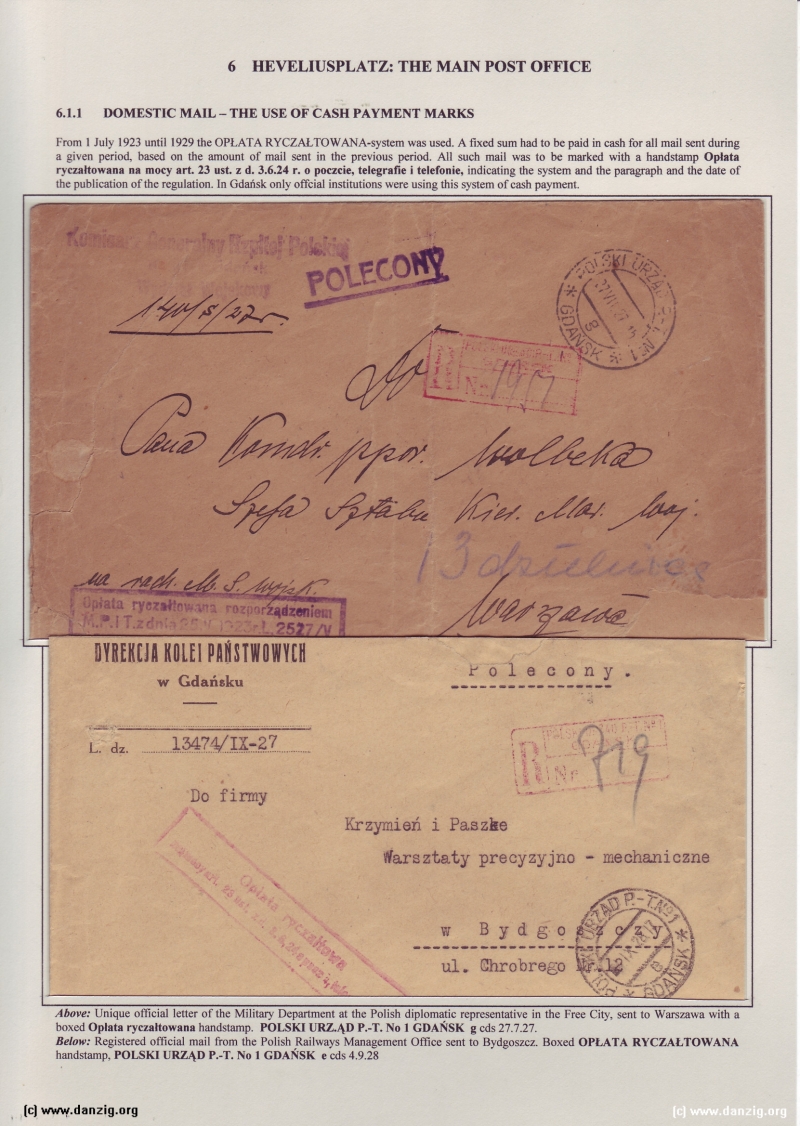 >> THE POLISH POST IN THE FREE CITY OF GDAŃSK 1920 - 1939
>> POCZTA POLSKA W WOLNYM MIEŚCIE GDAŃSKU 1920 - 1939

>> 6 HEVELIUSPLATZ: THE MAIN POST OFFICE
6.1.1 DOMESTIC MAIL — THE USE OF CASH PAYMENT MARKS

From 1 July 1923 until 1929 the OPŁATA RYCZAŁTOWANA-system was used. A fixed sum had to be paid in cash for all mail sent during a given period, based on the amount of mail sent in the previous period. All such mail was to be marked with a handstamp Opłata ryczałtowana na mocy art. 23 ust. z d. 3.6.24 r. o poczcie, telegrafie i telefonie, indicating the system and the paragraph and the date of the publication of the regulation. In Gdańsk only official institutions were using this system of cash payment.

Above: Unique official letter of the Military Department at the Polish diplomatic representative in the Free City, sent to Warszawa with a boxed Opłata ryczałtowana handstamp. POLSKI URZĄD P.-T. No 1 GDAŃSK g cds 27.7.27.
Below: Registered official mail from the Polish Railways Management Office sent to Bydgoszcz. Boxed OPŁATA RYCZAŁTOWANA handstamp, POLSKI URZĄD P.-T. No 1 GDAŃSK e cds 4.9.28

>> >> >>

The Polish Post in the Free City of Gdańsk 1920 - 1939, Page 61.
Hits: 1015

Added: 23/12/2016
Copyright: 2022 Danzig.org