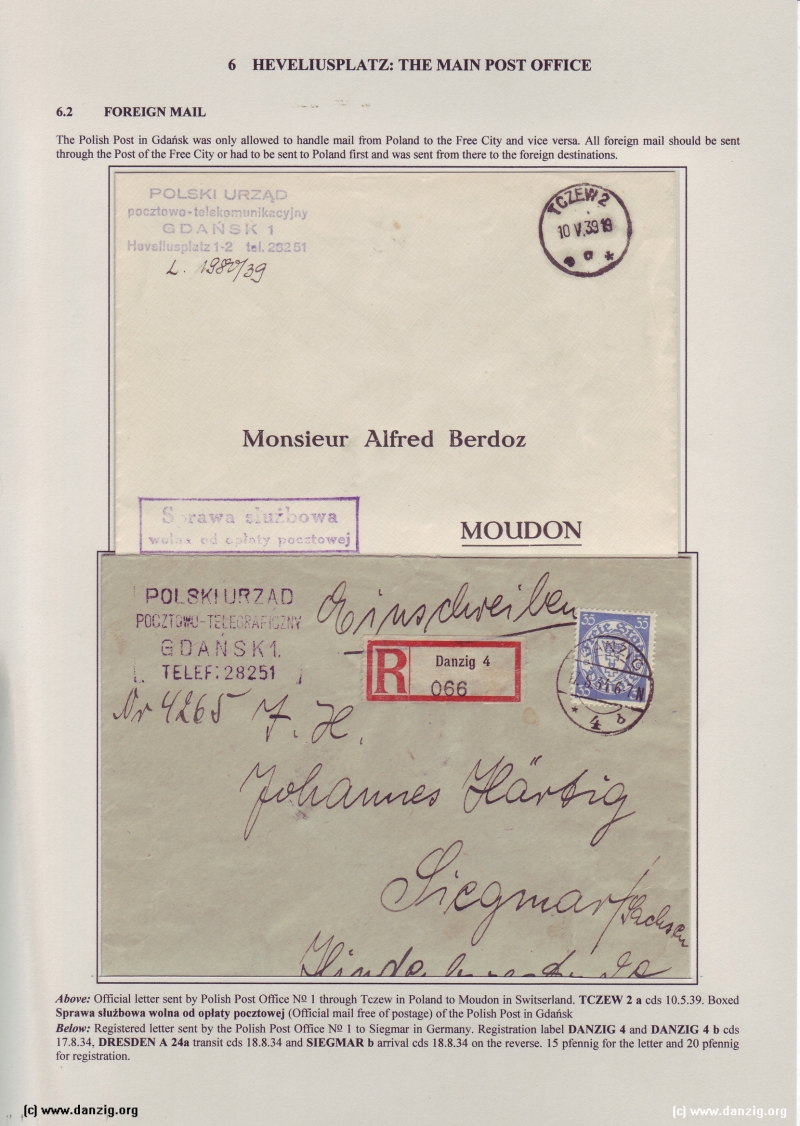 >> THE POLISH POST IN THE FREE CITY OF GDAŃSK 1920 - 1939
>> POCZTA POLSKA W WOLNYM MIEŚCIE GDAŃSKU 1920 - 1939

>> 6 HEVELIUSPLATZ: THE MAIN POST OFFICE
6.2 FOREIGN MAIL

The Polish Post in Gdańsk was only allowed to handle mail from Poland to the Free City and vice versa. All foreign mail should be sent through the Post of the Free City or had to be sent to Poland first and was sent from there to the foreign destinations.

Above: Official letter sent by Polish Post Office M 1 through Tczew in Poland to Moudon in Switserland. TCZEW 2 a cds 10.5.39. Boxed Sprawa służbowa wolna od opłaty pocztowej (Official mail free of postage) of the Polish Post in Gdańsk
Below: Registered letter sent by the Polish Post Office No 1 to Siegmar in Germany. Registration label DANZIG 4 and DANZIG 4 b cds 17.8.34, DRESDEN A 24a transit cds 18.8.34 and SIEGMAR b arrival cds 18.8.34 on the reverse. 15 pfennig for the letter and 20 pfennig for registration.

>> >> >>

The Polish Post in the Free City of Gdańsk 1920 - 1939, Page 72.
Hits: 1140

Added: 23/12/2016
Copyright: 2023 Danzig.org