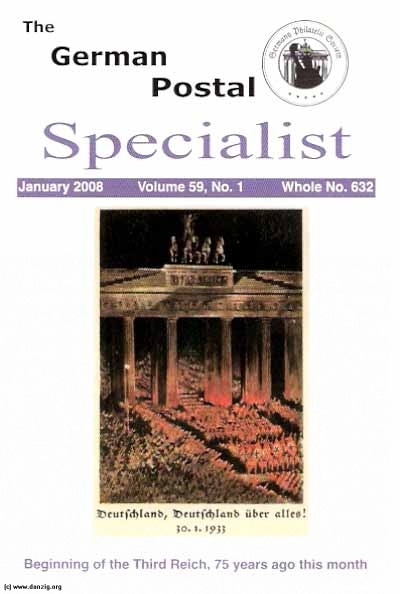 - Articles;
The Great Inflation in Germany, Part 5, page 7.
by Richard Slater and Jim Graue.
Observations on Third Reich Philately, page 15.
by Jim Graue.
Metered Zeppelin Mail, page 23.
by Mike Peter.
A Cash-Paid Marking Explained, page 28.
by Benjamin Beede.

- News;
GPS 2008 Convention In St. Louis, page 34.

- Columns;
Letters to the Editor, page 3.
New Issues, page 31.
The View From Here; On Study Groups, page 5.

- Departments;
Adlets, page 44.
German Postal Specialist Index for 2007, page 37.
Membership Report, page 43.
Hits: 1887

Added: 29/10/2008
Copyright: 2023 Danzig.org