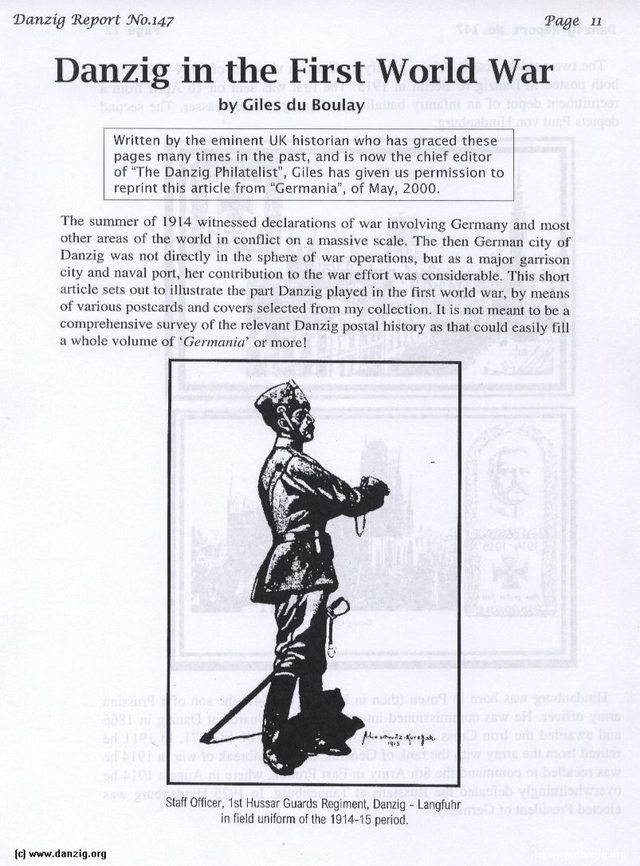 Danzig in the First World War.
by Giles du Boulay.

Written by the eminent UK historian who has graced these pages many times in the past, and is now the chief editor of 'The Danzig Philatelist', Giles has given us the permission to reprint this article from "Germania", of May, 2000.

The summer of 1914 witnessed declarations of war involving Germany and most other areas of the world in conflict on a massive scale. The then German city of Danzig was not directly in the sphere of war operations, but as a major garrison city and naval port, her contribtion to the war effort was considerable. This short article sets out to illustrate the part Danzig played in the first world war, by means of various postcards and covers selected from my collection. It is not meant to be a comprehensive survey of the relevant Danzig postal history as that could easily fill a whole volume of 'Germania' or more!

*- Staff Officer, 1st Hussar Guards Regiment, Danzig - Langfuhr
in field uniform of the 1914-15 period.

Danzig Report - Nr. 147.
Hits: 1577

Added: 17/02/2010
Copyright: 2023 Danzig.org