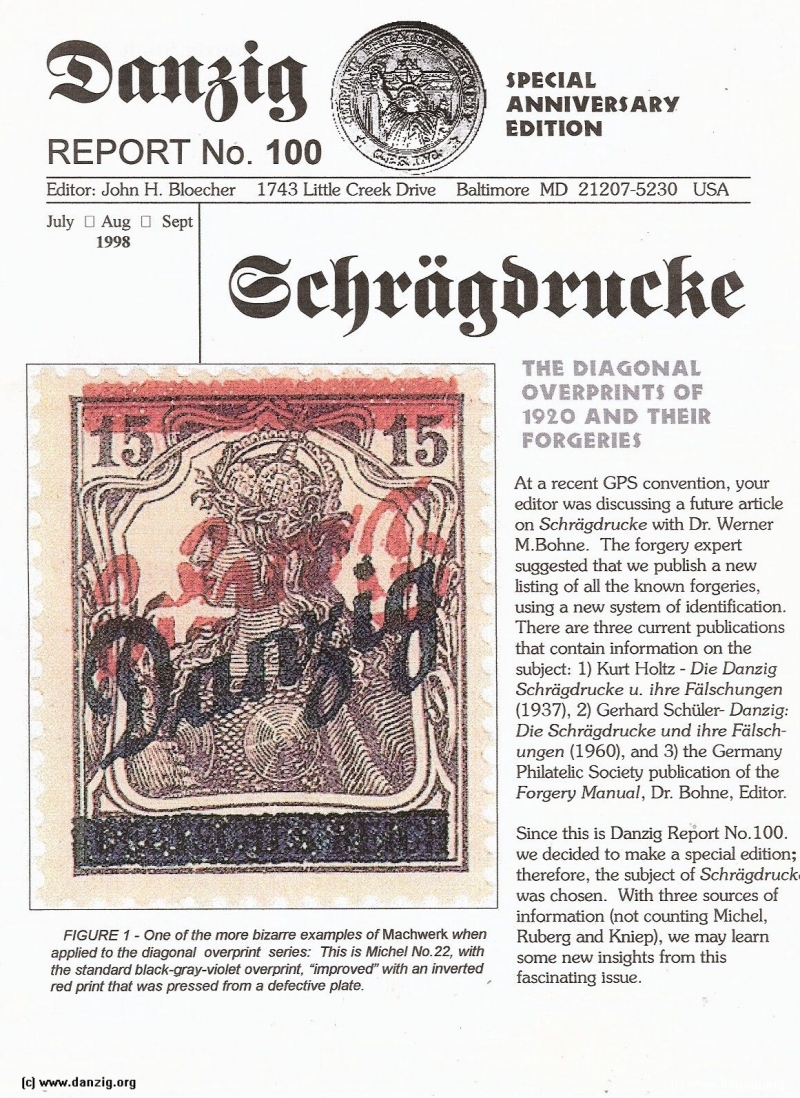 DANZIG
Report No. 100

Editor: John H. Bloecher, 1743 Little Creek Drive, Baltimore, MD. 21207-5230 USA

July - Aug - Sept 1998

SPECIAL ANNIVERSARY EDITION

THE DIAGONAL OVERPRINTS OF 1920 AND THEIR FORGERIES
At a recent GPS convention, your editor was discussing a future article on Schragdrucke with Dr. Werner M.Bohne. The forgery expert suggested that we publish a new listing of all the known forgeiies, using a new system of identification. There are three current publications that contain information on the subject: 1) Kurt Holtz - Die Danzig Schragdrucke u. ihre Falschungen (1937), 2) Gerhard Schuler- Danzig: Die Schrägdrucke und ihre Fälschu ngen (1960), and 3) the Germany Philatelic Society publication of the Forgery Manual, Dr. Bohne, Editor.

Since this is Danzig Report No.100. we decided to make a special edition; therefore, the subject of Schragdruck was chosen. With three sources of information (not counting Michel, Ruberg and Kniep), we may learn some new insights from this fascinating issue.

FIGURE 1 - One of the more bizarre examples of Machwerk when applied to the diagonal overprint series: This is Michel No.22, with the standard black-gray-violet overprint, "improved" with an inverted red print that was pressed from a defective plate.



Danzig Report Vol. 1 - Nr. 100 - July - August - September - 1998, Page 1.
Hits: 1311

Added: 22/07/2015
Copyright: 2022 Danzig.org