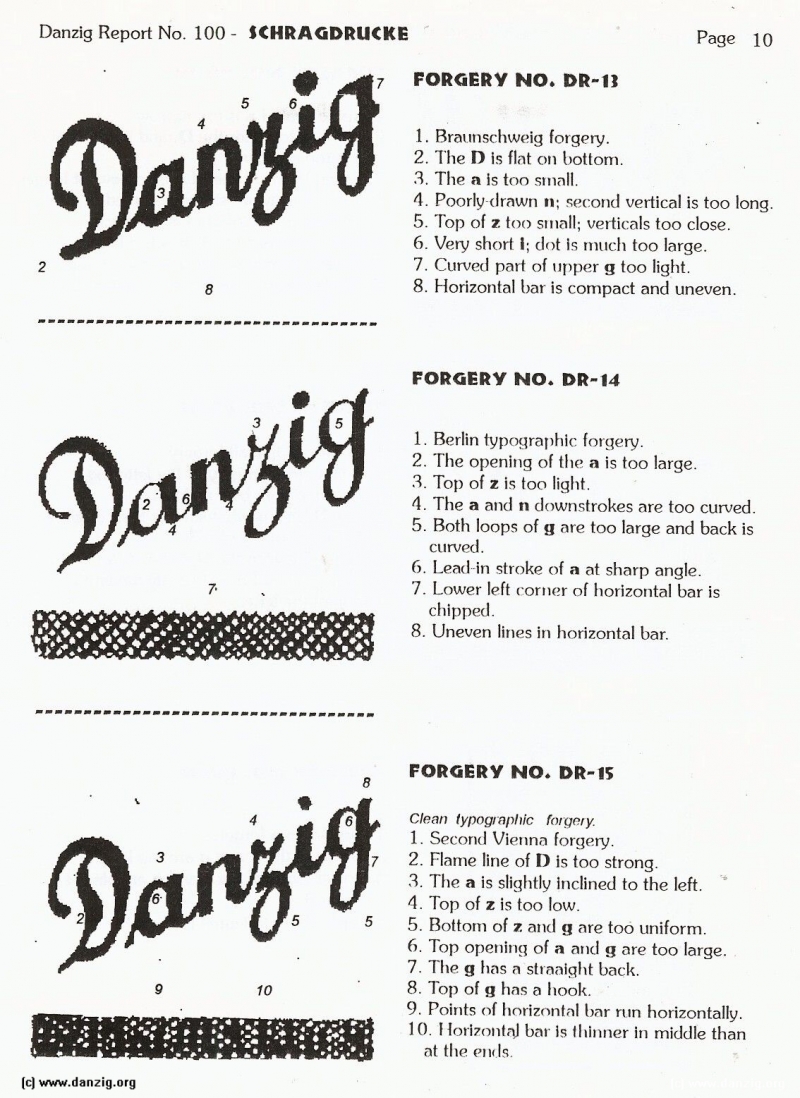 FORGERY NO. DR-13
1. Brannschweig forgery.
2. The I) Is flat on bottom.
3. The a Is too small.
4. Poorly-drawn n; second vertical is too long.
5. Top of z too small; verticals too close.
6. Very short I; clot Is nnich too large.
7. Cd part of tipper g too light.
8. Horizontal bar is compact and uneven.

FORGERY NO. DR-14
1. Berlin typographic forgery.
2. The opening of time a is too large.
3. Top of z is too light.
4. The a and n clownsirokes are too curved.
5. Both loops of g are too large and back is curved.
6. Lead-in stroke of a at sharp angle.
7. Lower left (omeI of horizontal bar is chipped.
8. Uneven lines in horizontal bar.

FORGERY NO. DR-15
Clean typogrphic forgery.
1. Second Vienna forgery.
2. Flame line of I) Is too strong.
3. The a is slightly Inclined to the left.
4. Top of z is too low.
5 5. [3ottorn of z and g are too uniform.
6. Top opening of a and g are too large.
7. The g has a strnalgimt back.
8. Top of q has a hook.
9. Points of honznntal bar run horizontally.
10. Horizontal bar is tinner in middle than at ends.



Danzig Report Vol. 1 - Nr. 100 - July - August - September - 1998, Page 10.
Hits: 1389

Added: 22/07/2015
Copyright: 2023 Danzig.org