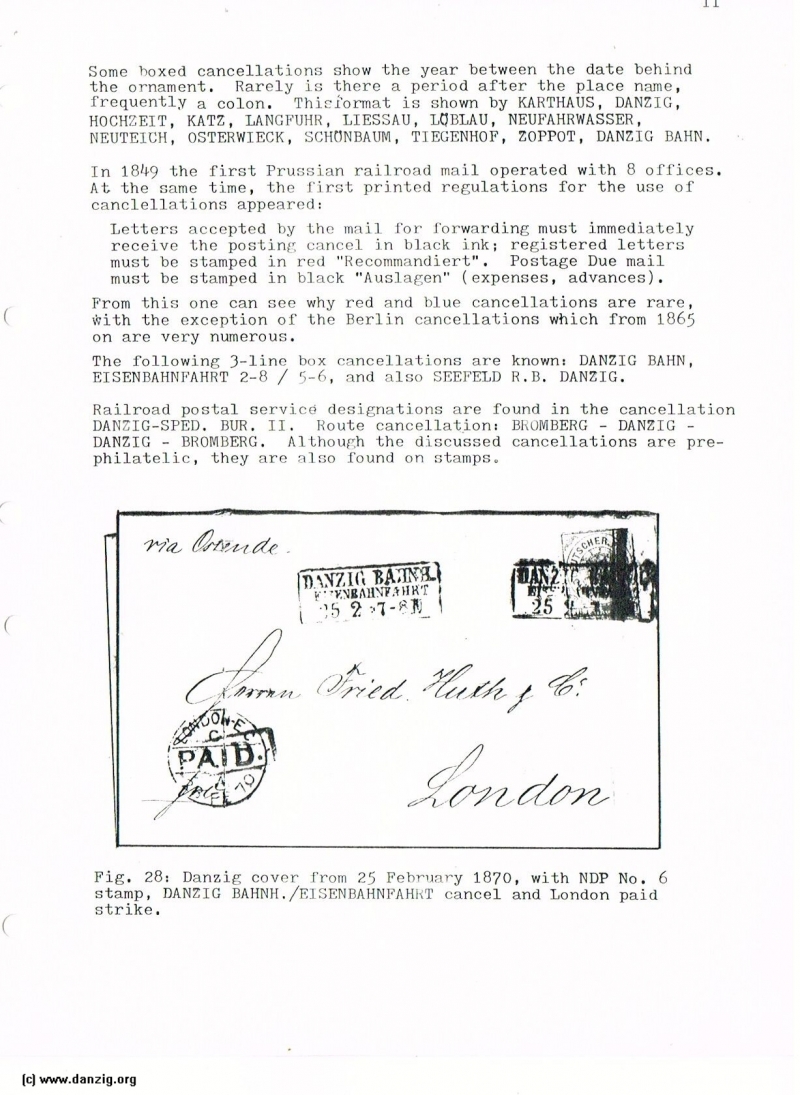 > HISTORY OF DANZIG'S MAIL AND POSTAL CANCELLATION

Some boxed cancellations show the year between the date behind the ornament. Rarely s there a period after the place name, frequently a colon. Thisíormat is shown by KARTHAUS, DANZIG, HOCHZEIT, KATZ, LANGFUHR, LIESSAU, LÖBLAU, NEUFAHRWASSER, NEUTEIGH, OSTERWIECK, SCHÖNBAUM, TIEGENHOF, ZOPPOT, DANZIG BAHN.

In 1849 the first Prussian railroad mail operated with 8 offices. At the same time, the first printed regulations for the use of canclellations appeared:

Letters accepted by the mail for forwarding must immediately receive the posting cancel in black ink; registered letters must be stamped in red 'Recommandiert". Postage Due mail must be stamped in black "Auslagen" (expenses, advances).

From this one can see why red and blue cancellations are rare, with the exception of the Berlin cancellations which from 1865 on are very numerous.

The following 3-line box cancellations are known: DANZIG BAHN, EISENBAHNFAHRT 2-8 / 5-6, and also SEEFELD R.B. DANZIG.

Railroad postal service designations are found in the cancellation DANZIG-SPED. BUR. II. Route cancellation: BROMBERG - DANZIG -DANZIG - BROMBERG. Although the discussed cancellations are prephilatelic, they are also found on stamps.

Figure 28: Danzig cover from 25 February 1870, with NDP No. 6 stamp, DANZIG BAHNH./EISENBAHNFAHRT cancel and London paid strike.



Danzig Report  Nr. 14 – April - May - June - 1977, Page 13.
Hits: 1162

Added: 05/06/2015
Copyright: 2023 Danzig.org