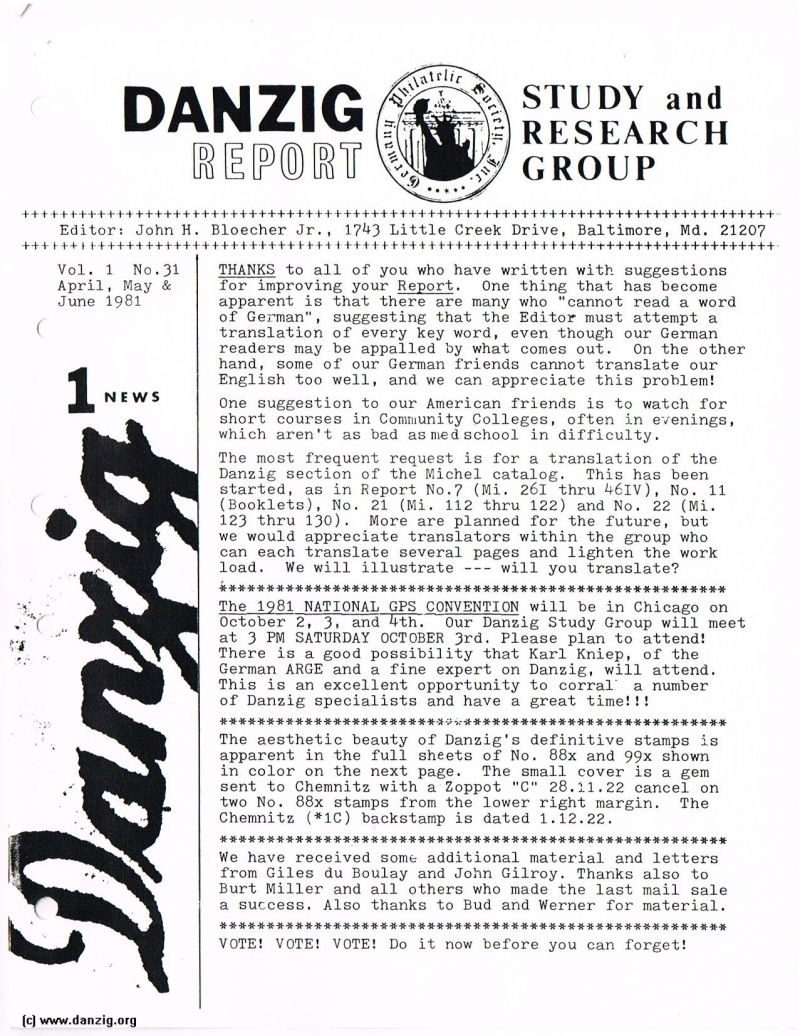 DANZIG REPORT  -   STUDY and RESEARCH GROUP

Editor: John H. Bloecher Jr., 1743 Little Creek Drive, Baltimore, Md. 21207

THANKS to all of you who have written with suggestions for improving your Report. One thing that has become apparent is that there are many who "cannot read a word of German", suggesting that the Editor must attempt a translation of every key word, even though our German readers may be appalled by what comes out. On the other hand, some of our German friends cannot translate our English too well, and we can appreciate this problem!

One suggestion to our American friends is to watch for short courses in Community Colleges, often in earnings, which aren't as bad as med school in difficulty.

The most frequent request is for a translation of the Danzig section of the Michel catalog. This has been started, as in Report No.? (Michel 261 thru 461V), No. 11 (Booklets), No. 21 (Michel 112 thru 122) and No. 22 (Michel 123 thru 130). More are planned for the future, but we would appreciate translators within the group who can each translate several pages and lighten the work load. We will illustrate --- will you translate?

The 1981 NATIONAL GPS CONVENTION will be in Chicago on October 2, 3, and 4th. Our Danzig Study Group will meet at 3 PM SATURDAY OCTOBER 3rd. Please plan to attend! There is a good possibility that Karl Kniep, of the German ARGE and a fine expert on Danzig, will attend. This is an excellent opportunity to corral a number of Danzig specialists and have a great time!!!

The aesthetic beauty of Danzig's definitive stamps is apparent in the full sheets of No. 88x and 99x shown in color on the next page. The small cover is a gem sent to Chemnitz with a Zoppot "C" 28.11.22 cancel on two No. 88x stamps from the lower right margin. The Chemnitz (*1C) backstamp is dated 1.12.22.

We have received some additional material and letters  from Giles du Boulay and John Gilroy. Thanks also to  Burt Miller and all others who made the last mail sale  a success. Also thanks to Bud and Werner for material.

VOTE! VOTE! VOTE! Do it now before you can forget!

Danzig Report  Nr. 31 - April - May - June - 1981, Page 1.
Hits: 1196

Added: 11/06/2015
Copyright: 2022 Danzig.org