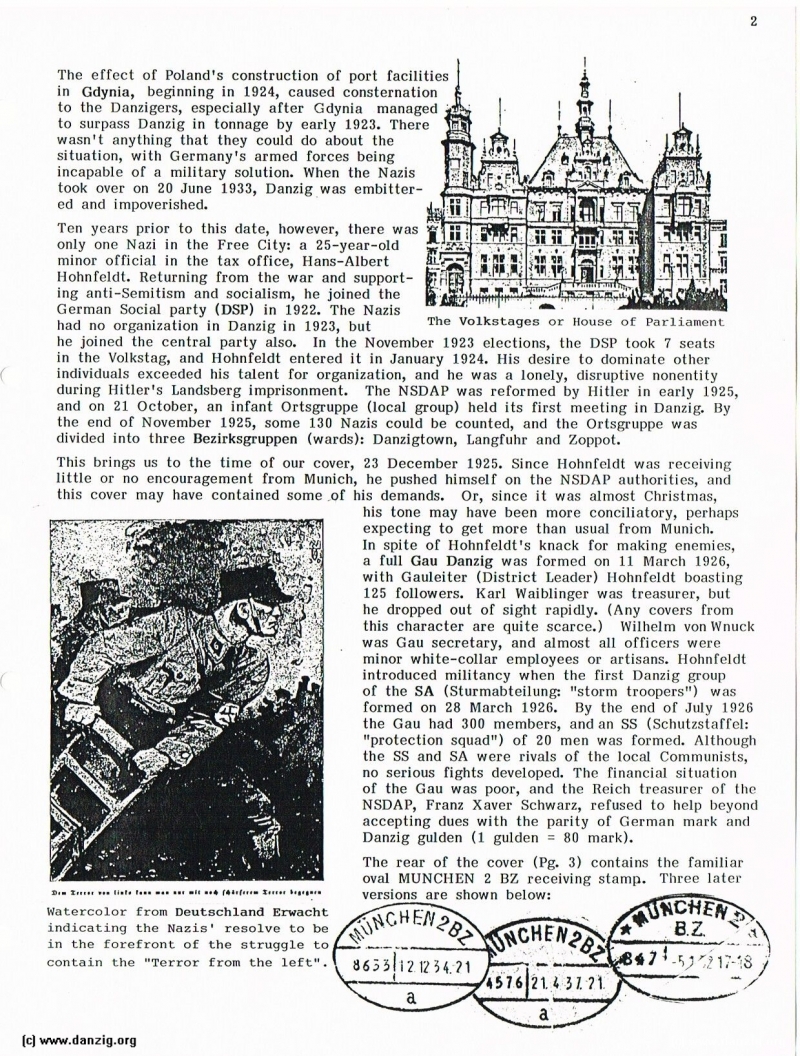 The effect of Poland's construction of port facilities in Gdynia, beginning in 1924, caused consternation to the Danzigers, especially after Gdynia managed to surpass Danzig in tonnage by early 1923. There wasn't anything that they could do about the situation, with Germany's armed forces being incapable of a military solution. When the Nazis took over on 20 June 1933, Danzig was embittered and impoverished.

Ten years prior to this date, however, there was only one Nazi in the Free City: a 25—year—old minor official in the tax office, Hans—Albert Hohnfeldt. Returning from the war and supporting anti-Semitism and socialism, he joined the German Social party (DSP) in 1922. The Nazis had no organization in Danzig in 1923, but he joined the central party also. In the November 1923 elections, the DSP took 7 seats in the Volkstag, and Hohnfeldt entered it in January 1924. His desire to dominate other individuals exceeded his talent for organization, and he was a lonely, disruptive nonentity during Hitler's Landsberg imprisonment. The NSDAP was reformed by Hitler in early 1925, and on 21 October, an infant Ortsgruppe (local group) held its first meeting in Danzig. By the end of November 1925, some 130 Nazis could be counted, and the Ortsgruppe was divided into three Bezirksgruppen (wards): Danzigtown, Langfuhr and Zoppot.

This brings us to the time of our cover, 23 December 1925. Since Hohnfeldt was receiving little or no encouragement from Munich, he pushed himself on the NSDAP authorities, arid this cover may have contained some of his demands. Or, since it was almost Christmas, his tone may have been more conciliatory, perhaps expecting to get more than usual from Munich. In spite of Hohnfeldt's knack for making enemies, a full Gau Danzig was formed on 11 March 1926, with Gauleiter (District Leader) [lohnfeldt boasting 125 followers. Karl Waiblinger was treasurer, but he dropped out of sight rapidly. (Any covers from this character are quite scarce.) Wilhelm von Wnuck was Gau secretary, and almost all officers were minor white—collar employees or artisans. Hohnfcldt introduced militancy when the first Danzig group of the SA (Sturmabteilung "storm troopers") was formed on 28 March 1926. By the end of July 1926 the Gau had 300 members, and an SS (Schutzstaffel: "protection squad") of 20 men was formed. Although the SS and SA were rivals of the local Communists, no serious fights developed. The financial situation of the Gau was poor, and the Reich treasurer of the NSDAP, Franz Xaver Schwarz, refused to help beyond accepting dues with the parity of German mark and Danzig gulden (1 gulden = 80 mark).

The rear of the cover (Pg. 3) contains the familiar oval MUNCHEN 2 BZ receiving stamp. Three later versions are shown below:

Watercolor from Deutschland Erwacht indicating the Nazis' resolve to be in the forefront of the struggle to contain the "Terror from the left".


Danzig Report Vol. 1 - Nr. 49 - October - November - December - 1985, Page 2.
Hits: 1303

Added: 19/06/2015
Copyright: 2022 Danzig.org