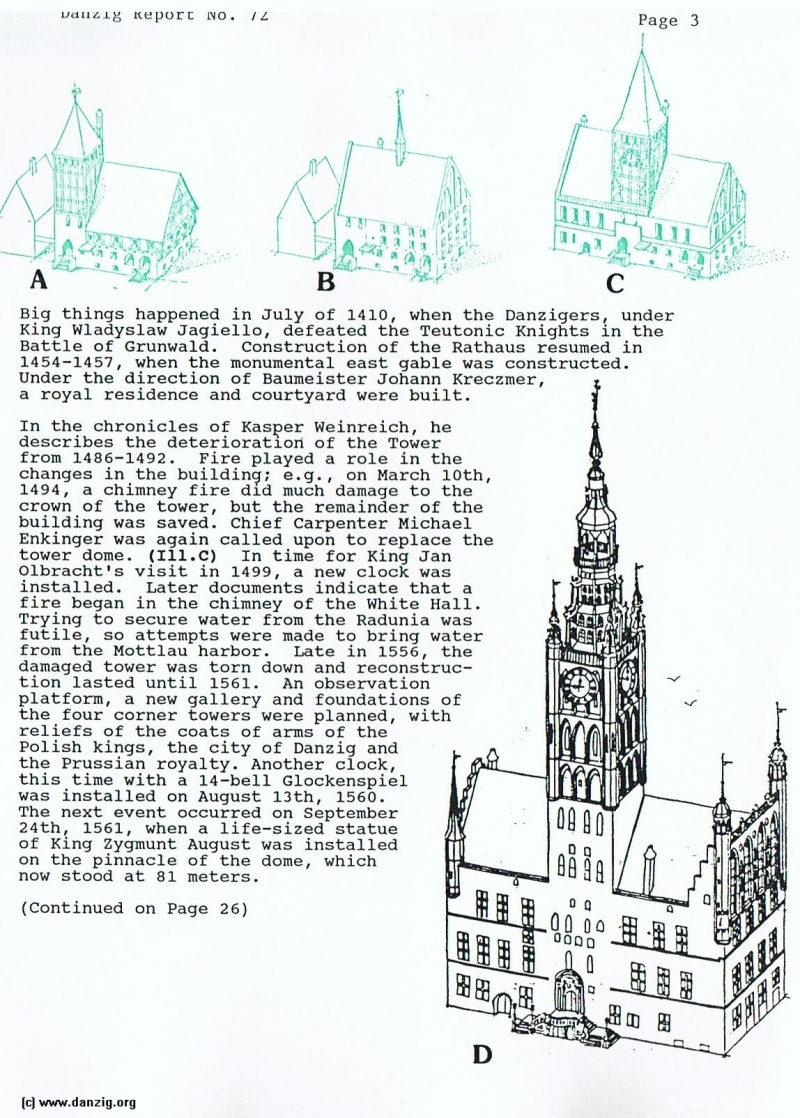 Big things happened in July of 1410, when the Danzigers, under King Wiadyslaw Jagiello, defeated the Teutonic Knights in the Battle of Grunwald. Construction of the Rathaus resumed in 1454—1457, when the monumental east gable was constructed. Under the direction of Baumeister Johann Kreczmer, a royal residence and courtyard were built.

In the chronicles of Kaser Weinreich, he describes the deterioration of the Tower from 1486—1492. Fire played a role in the changes in the building; e.g., on March 10th, 1494, a chimney fire did much damage to the crown of the tower, but the remainder of the building was saved. Chief Carpenter Michael Enkinger was again called upon to replace the tower dome. (I11.C) In time for King Jan Olbracht's visit in 1499, a new clock was installed. Later documents indicate that a fire began in the chimney of the White Hall. Trying to secure water from the Radunia was futile, so attempts were made to bring water from the Mottlau harbor. Late in 1556, the damaged tower was torn down and reconstruction lasted until 1561. An observation platform, a new gallery and foundations of the four corner towers were planned, with reliefs of the coats of arms of the Polish kings, the city of Danzig and the Prussian royalty. Another clock, this time with a 14—bell Glockenspiel was installed on August 13th, 1560. The next event occurred on September 24th, 1561, when a life—sized statue of King Zygmunt August was installed on the pinnacle of the dome, which now stood at 81 meters.

(Continued on Page 26)



Danzig Report Vol. 1 - Nr. 72 - July - August - September - 1991, Page 3.
Hits: 1518

Added: 30/06/2015
Copyright: 2023 Danzig.org