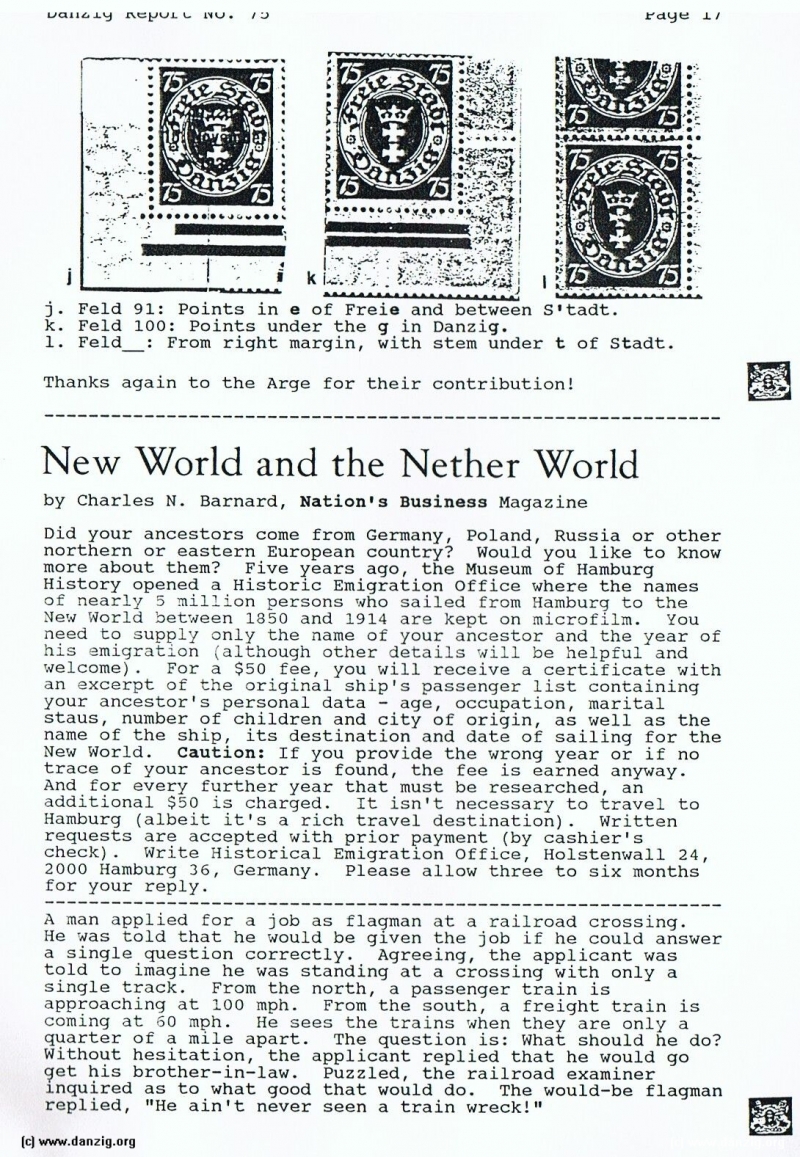 j. Feld 91: Points in e of Freie and between S'tadt.
k. Feld 100: Points under the g in Danzig.
1. Feld_: From right margin, with stem under t of Stadt.

Thanks again to the Arge for their contribution!

New World and the Nether World by Charles N. Barnard, Nation's Business Magazine

Did your ancestors come from Germany, Poland, Russia or other northern or eastern European country? Would you like to know more about them? Five years ago, the Museum of Hamburg History opened a Historic Emigration Office where the names of nearly 5 million persons who sailed from Hamburg to the New World between 1850 and 1914 are kept on microfilm. You need to supply only the name of your ancestor and the year of his emigration (although other details will be helpful and welcome). For a $50 fee, you will receive a certificate with an excerpt of the original ship's passenger list containing your ancestor's personal data — age, occupation, marital staus, number of children and city of origin, as well as the name of the ship, its destination and date of sailing for the New World. Caution: If you provide the wrong year or if no trace of your ancestor is found, the fee is earned anyway. And for every further year that must be researched, an additional $50 is charged. It isn't necessary to travel to Hamburg (albeit it's a rich travel destination). Written requests are accepted with prior payment (by cashier's check). Write Historical Emigration Office, Holstenwall 24, 2000 Hamburg 36, Germany. Please allow three to six months for your reply.

A man applied for a job as flagman at a railroad crossing. He was told that he would be given the job if he could answer a single question correctly. Agreeing, the applicant was told to imagine he was standing at a crossing with only a single track. From the north, a passenger train is approaching at 100 mph. From the south, a freight train is coming at 60 mph. He sees the trains when they are only a quarter of a mile apart. The question is: What should he do? Without hesitation, the applicant replied that he would go 9et his brother—in—law. Puzzled, the railroad examiner inquired as to what good that would do. The would—be flagman replied, "He ain't never seen a train wreck!"



Danzig Report Vol. 1 - Nr. 75 - April - May - June - 1992, Page 17.
Hits: 1282

Added: 02/07/2015
Copyright: 2023 Danzig.org