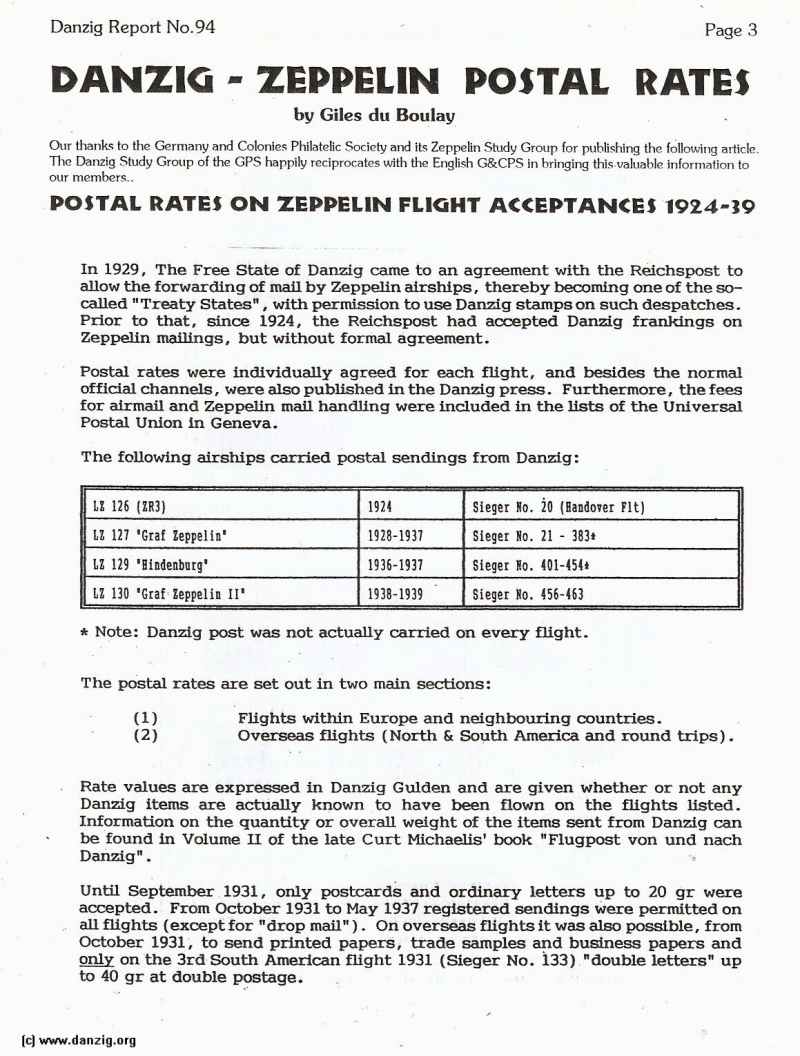 DANZIG - ZEPPELIN POSTAL RATES by Giles du Boulay

Our thanks to the Germany and Colonies Philatelic Society and its Zeppelin Study Group for publishing the following article. The Danzig Study Group of the GPS happily reciprocates with the English G&CPS In bringing this valuable information to our members..

POSTAL RATES ON ZEPPELIN FLIGHT ACCEPTANCES 1924-J9

In 1929, The Free State of Danzig came to an agreement with the Reichspost to ailow the forwarding of mail by Zeppelin airships, thereby becoming one of the so- called "Treaty States", with permission to use Danzig stamps on such despatches. Prior to that, since 1924, the Reichspost had accepted Danzig frankings on Zeppelin mailings, but without formal agreement.

Postal rates were individually agreed for each flight, and besides the normal official channels, were also published in the Danzig press. Furthermore, the fees for airmail and Zeppelin mail handling were included in the lists of the Universal Postal Union in Geneva.

* Note: Danzig post was not actually carried on every flight.

The postal rates are set out in two main sections:
(1)   Flights within Europe and neighbouring countries.
(2) Overseas flights (North & South America and round trips).

Rate values are expressed in Danzig Gulden and are given whether or not any Danzig items are actually known to have been flown on the flights listed. Information on the quantity or overall weight of the Items sent from Danzig can be found in Volume II of the late Curt Michaelis' book "Flugpost von und nach Danzig".

Until September 1931, only postcards and ordinary letters up to 20 gr were accepted. From October 1931 to May 1937 registered sendings were permitted on all flights (except for "drop mail"). On overseas flights It was also possible, from October 1931, to send printed papers, trade samples and business papers and only on the 3rd South American flight 1931 (Sieger No. 133) "double letters" up to 40 gr at double postage.



Danzig Report Vol. 1 - Nr. 94 - January - February - March - 1997, Page 3.
Hits: 1632

Added: 19/07/2015
Copyright: 2022 Danzig.org