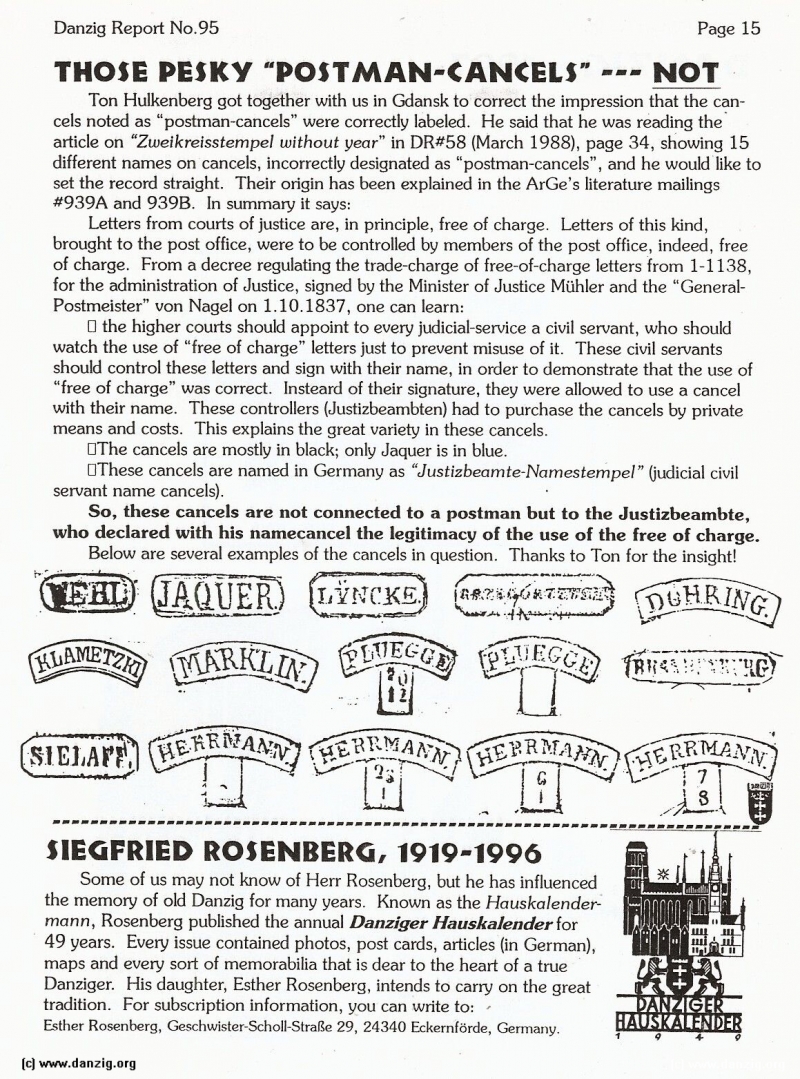 THOSE PESKY "POSTMAN-CANCELS" --- NOT

Ton Hulkenberg got together with us in Gdansk to correct the impression that the canc els noted as "postman-cancels" were correctly labeled. He said that he was reading the article on "Zweikreisstempei without year" in DR#58 (March 1988), page 34, showing 15 different names on cancels, incorrectly designated as "postman-cancels", and he would like to set the record straight. Their origin has been explained in the ArGe's literature mailings #939A and 939B. In summary it says:

Letters from courts of justice are, in principle, free of charge. Letters of this kind, brought to the post office, were to be controlled by members of the post office, indeed, free of charge. From a decree regulating the trade-charge of free-of-charge letters from 1-1138, for the administration of Justice, signed by the Minister of Justice MUhler and the "GeneralP ostmeister" von Nagel on 1.10.1837, one can learn:

The higher courts should appoint to every judicial-service a civil servant, who should watch the use of "free of charge" letters just to prevent misuse of it. These civil servants should control these letters and sign with their name, in order to demonstrate that the use of "free of charge" was correct. Insteard of their signature, they were allowed to use a cancel with their name. These controllers (Justizbeambten) had to purchase the cancels by private means and costs. This explains the great variety in these cancels.

The cancels are mostly in black; only Jaquer is in blue.

These cancels are named in Germany as "Justizbeamte-Namestempel" (judicial civil servant name cancels).

So, these cancels are not connected to a postman but to the Justizbeambte, who declared with his namecancel the legitimacy of the use of the free of charge.Below are several examples of the cancels in question. Thanks to Ton for the insight!

SIEGFRIED ROSENBERG, 1919-1996

Some of us may not know of Herr Rosenberg, but he has influenced the memory of old Danzig for many years. Known as the Hauskalenderm ann, Rosenberg published the annual Danziger Hauskalender for 49 years. Every issue contained photos, post cards, articles (in German), maps and every sort of memorabilia that is dear to the heart of a true Danziger. His daughter, Esther Rosenberg, intends to carry on the great tradition. For subscription information, you can write to: Esther Rosenberg, Geschwister-SchoII-Stra1e 29, 24340 Eckernforde, Germany.



Danzig Report Vol. 1 - Nr. 95 - April - May - June - 1997, Page 15.
Hits: 1261

Added: 19/07/2015
Copyright: 2023 Danzig.org