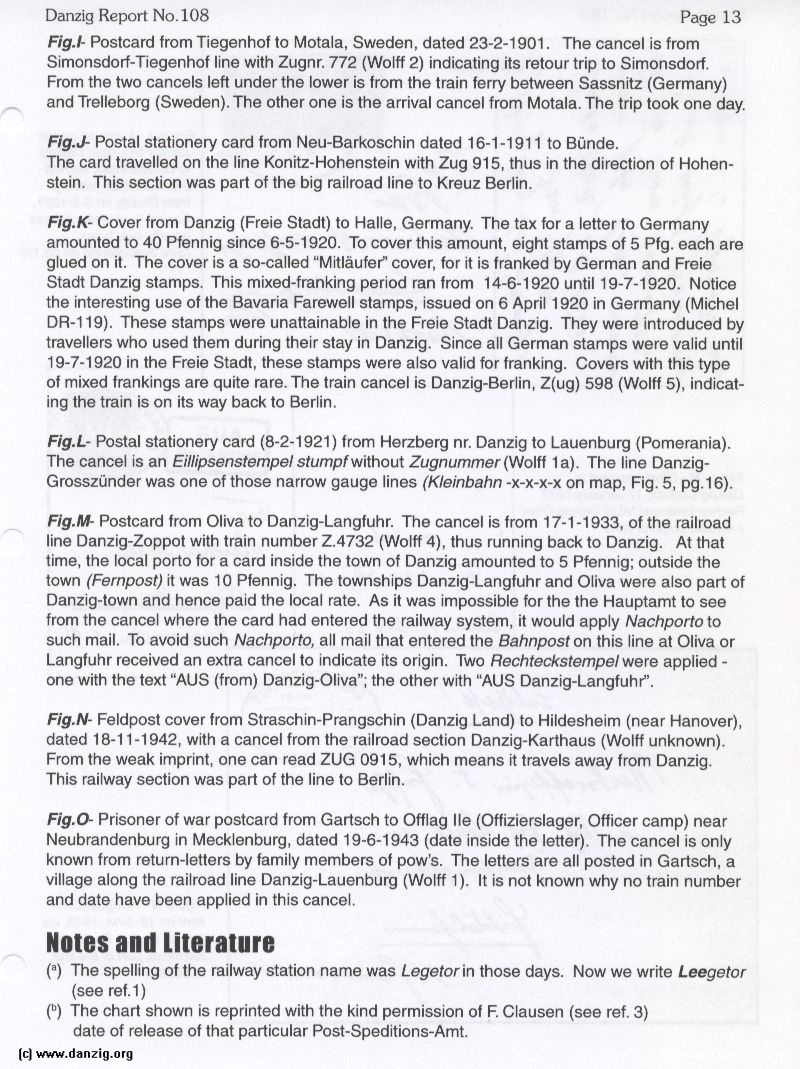 Fig.I- Postcard from Tiegenhof to Motala, Sweden, dated 23-2-1901. The cancel is from Simonsdort-Tiegenhof line with Zugnr. 772 (Wolff 2) indcating its retour trip to Simonsdorf. From the two cancels left under the lower is from the train ferry between Sassnitz (Germany) and Trelleborg (Sweden). The other one is the arrival cancel from Motala. The trip took one day.

FIg.J- Postal stationery card from Neu-Barkoschin dated 16-1 -191 ito Bunde. The card travelled on the line Konitz-Hohenstein with Zug 915, thus in the direction of Hohens tein. This section was part of the big railroad line to Kreuz Berlin.

FIg.K- Cover from Danzig (Freie Stadt) to Halle, Germany. The tax for a letter to Germany amounted to 40 Pfennig since 6-5-1920. To cover this amount, eight stamps of 5 Pfg. each are glued on it. The cover is a so-called "Mitlâufer" cover, for it is franked by German and Freie Stadt Danzig stamps. This mixed-franking period ran from 14-6-1920 until 19-7-1920. Notice the interesting use of the Bavaria Farewell stamps, issued on 6 April 1920 in Germany (Michel DR-i 19). These stamps were unattainable in the Freie Stadt Danzig. They were introduced by travellers who used them during their stay in Danzig. Since all German stamps were valid until 19-7-1920 in the Freie Stadt, these stamps were also valid for franking. Covers with this type of mixed frankings are quite rare. The train cancel is Danzig-Berlin, Z(ug) 598 (Wolff 5), indicati ng the train is on its way back to Berlin.

Fig.L- Postal stationery card (8-2-1921) from Herzberg nr. Danzig to Lauenburg (Pomerania). The cancel is an Elilipsenstempel stump! without Zugnummer(Woltf la). The line DanzigG rosszUnder was one of those narrow gauge lines (Kleinbahn -x-x-x-x on map, Fig. 5, pg.16).

Fig.M Postcard from Oliva to Danzig-Langfuhr. The cancel is from 17-1-1933, of the railroad line Danzig-Zoppot with train number Z.4732 (Wolff 4), thus running back to Danzig. At that time, the local porto for a card inside the town of Danzig amounted to 5 Pfennig; outside the town (Fernpost) it was 10 Pfennig. The townships Danzig-Langfuhr and Oliva were also part of Danzig-town and hence paid the local rate. As it was impossible for the the Hauptamt to see from the cancel where the card had entered the railway system, it would apply Nachporto to such mail. To avoid such Nactporto, all mail that entered the Bahnpost on this line at Oliva or Langfuhr received an extra cancel to indicate its origin. Two Rechteckstempel were applied - one with the text "AUS (from) Danzig-Oliva"; the other with "AUS Danzig-Langfuhr".

Fig.N- Feidpost cover from Straschin-Prangschin (Danzig Land) to Hildesheim (near Hanover), dated 18-11-1942, with a cancel from the railroad section Danzig-Karthaus (Wolff unknown). From the weak imprint, one can read ZUG 0915, which means it travels away from Danzig. This railway section was part of the line to Berlin.

Fig.O- Prisoner of war postcard from Gartsch to Offlag lie (Oftiziersiager, Officer camp) near Neubrandenburg in Mecklenburg, dated 19-6-1943 (date inside the letter). The cancel is only known from return-letters by family members of pow's. The letters are all posted in Gartsch, a village along the railroad line Danzig-Lauenburg (Wolff 1). It is not known why no train number and date have been applied in this cancel.

Notes and Literature
(a) The spelling of the railway station name was Legetor in those days. Now we write Leegetor (see ref.1)
(b) The chart shown is reprinted with the kind permission of F. Clausen (see ref. 3) date of release of that particular Post-Speditions-Amt.



Danzig Report Vol. 1 - Nr. 108 - July - August - September - 2000, Page 14.
Hits: 1508

Added: 28/07/2015
Copyright: 2023 Danzig.org