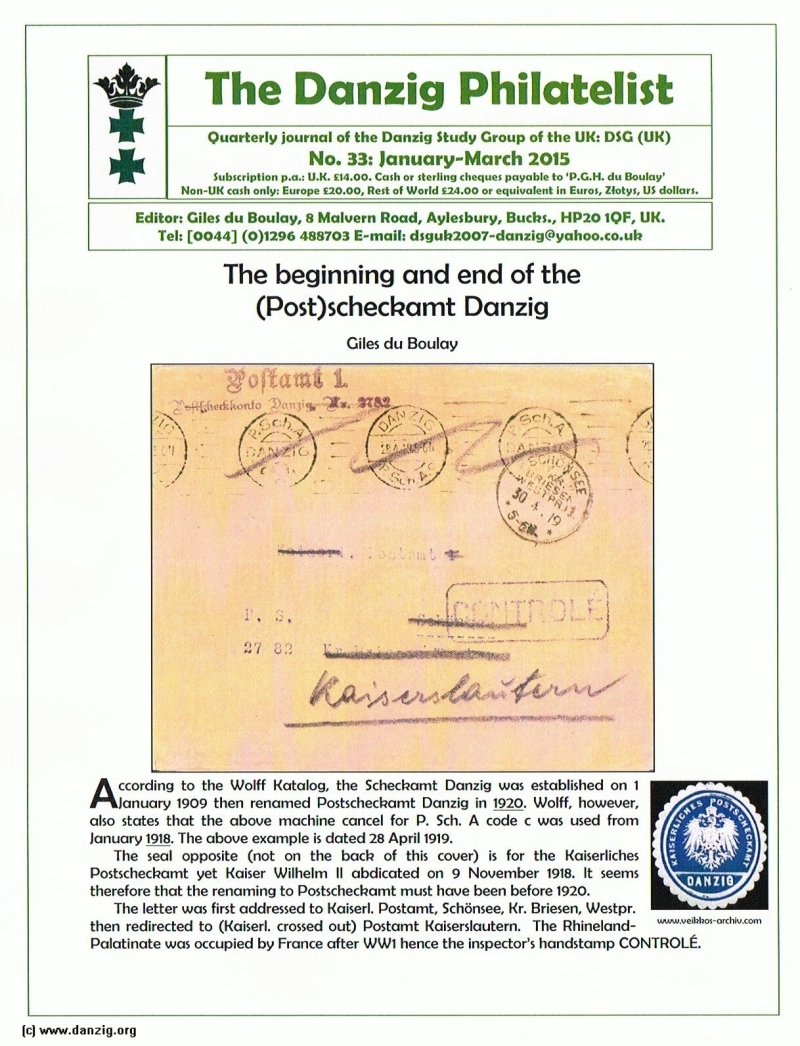 The beginning and the end of the (Post)scheckamt Danzig
According to the Wolff Katalog, the Scheckamt Danzig was established on 1 January 1919 then renamed Postscheckamt Danzig in 1920. Wolf, however, also states that the above machine cancel for P. Sch. A code c was used from January 1918. the above example is dated 28 April 1919.
The seal opposite (not on the back of this cover) is for the Kaiserliches Postscheckamt must have been before 1920.
The letter was first
The Danzig Philatelist.
To respect the copyright of the publisher, we will only show you the first page of this issue. If you are interested in the other pages kindly please contact the editor, you may click as well on this site on 'Membership', see 'The Danzig Study Group of the UK'.
Contents :


G du B: The indefatigable Marianne Selonke (1781 - 1965)


Bernd Marczincke: The naval war in the Baltic Sea (Part 3: 1916-18)


G du B: The Junkers G38 D-2000 in Danzig 23 August 1931


G du B: 'Luposta': the curious case of the missing Victor Zander plaque


The Danzig Philatelist Nr. 33, 1st Quarter 2015
Hits: 1600

Added: 24/01/2016
Copyright: 2023 Danzig.org