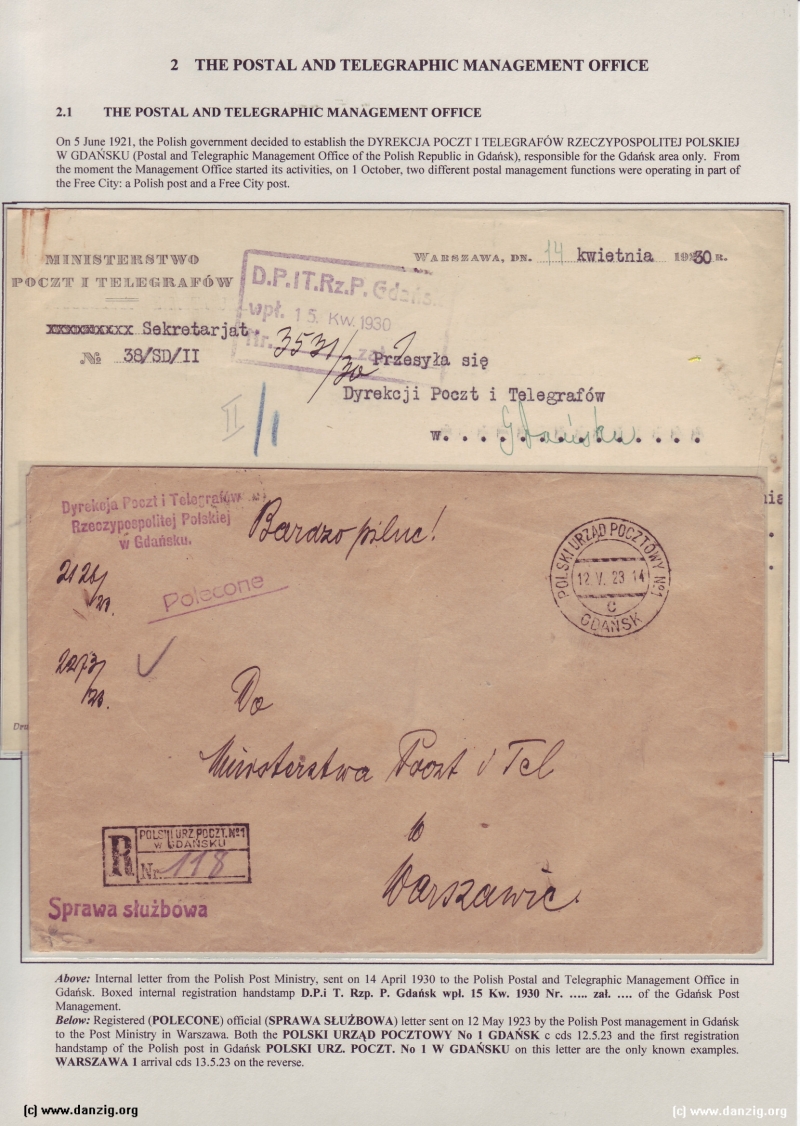 >> THE POLISH POST IN THE FREE CITY OF GDAŃSK 1920 - 1939
>> POCZTA POLSKA W WOLNYM MIEŚCIE GDAŃSKU 1920 - 1939

>> 2 THE POSTAL AND TELEGRAPHIC MANAGEMENT OFFICE
>> 2.1 THE POSTAL AND TELEGRAPHIC MANAGEMENT OFFICE

On 5 June 1921, the Polish government decided to establish the DYREKCJA POCZT I TELEGRAFÓW RZECZYPOSPOLITEJ POLSKIEJ W GDAŃSKU (Postal and Telegraphic Management Office of the Polish Republic in Gdańsk), responsible for the Gdańsk area only. From the moment the Management Office started its activities, on 1 October, two different postal management functions were operating in part of the Free City: a Polish post and a Free City post.



Above: Internal letter from the Polish Post Ministry, sent on 14 April 1930 to the Polish Postai and Telegraphic Management Office in Gdańsk. Boxed interna! registration handstamp D.P.i T. Rzp. P. Gdańsk wpł. 15 Kw. 1930 Nr. ..... zał. .... of the Gdańsk Post Management.
Below: Registered (POLECONE) official (SPRAWA SŁUŻBOWA) letter sent on 12 May 1923 by the Polish Post management in Gdańsk to the Post Ministry in Warszawa. Both the POLSKI URZĄD POCZTOWY No 1 GDAŃSK c cds 12.5.23 and the first registration handstamp of the Polish post in Gdańsk POLSKI URZ. POCZT. No 1 W GDAŃSKU on this letter are the only known examples. WARSZAWA 1 arrival cds 13.5.23 on the reverse.

>> >> >>

The Polish Post in the Free City of Gdańsk 1920 - 1939, Page 5.
Hits: 1263

Added: 13/12/2016
Copyright: 2023 Danzig.org