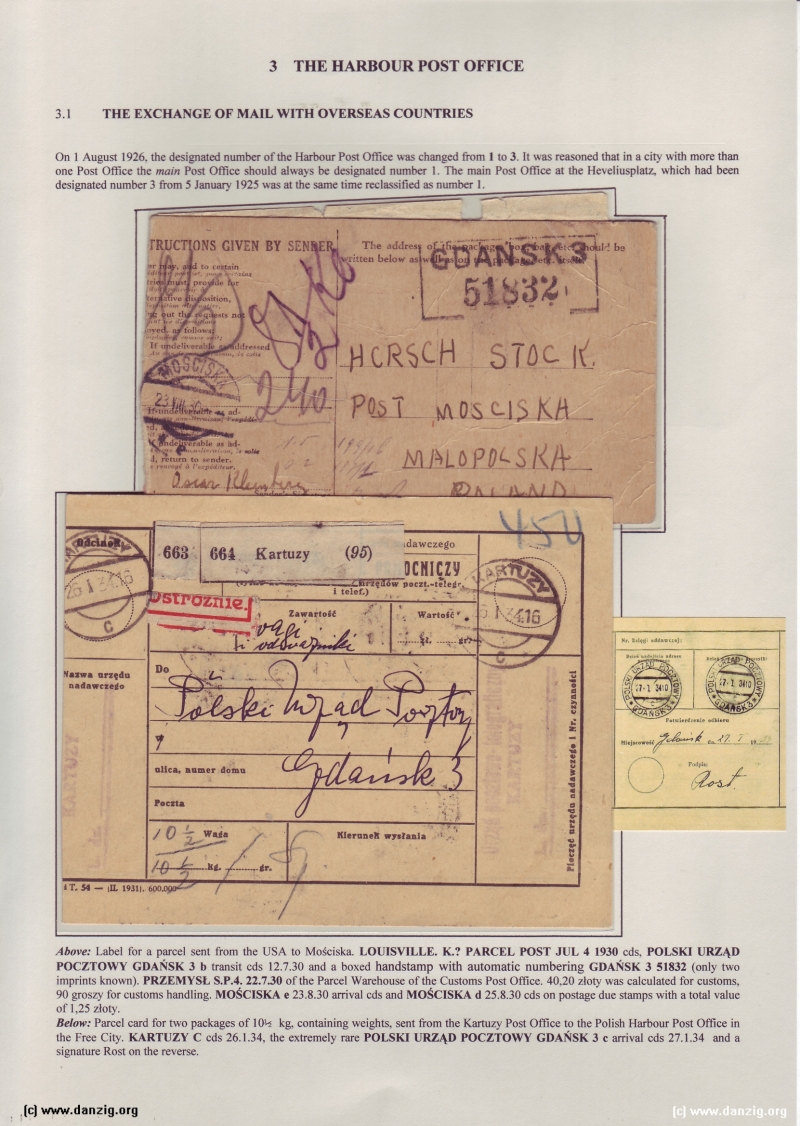 >> THE POLISH POST IN THE FREE CITY OF GDAŃSK 1920 - 1939

>> 3 THE HARBOUR POST OFFICE
>> 3.1 THE EXCHANGE OF MAIL WITH OVERSEAS COUNTRIES

On 1 August 1926. the designated number of the Harbour Post Office was changed from 1 to 3. It was reasoned that in a city with more than one Post Office the main Post Office should always be designated number 1. The main Post Office at the Heveliusplatz, which had been designated number 3 from 5 January 1925 was at the same time reclassified as number 1.



Above: Label for a parcel sent from the USA to Mościska. LOUISVILLE. K.? PARCEL POST JUL 4 1930 cds. POLSKI URZĄD POCZTOWY GDAŃSK 3 b transit cds 12.7.30 and a boxed handstamp with automatic numbering GDAŃSK 3 51832 (only two imprints known). PRZEMYSŁ S.P.4. 22.7.30 of the Parcel Warehouse of the Customs Post Office. 40,20 złoty was calculated for customs, 90 groszy for customs handling. MOŚCISKA e 23.8.30 arrival cds and MOŚCISKA d 25.8.30 cds on postage due stamps with a total value of 1.25 złoty.
Below: Parcel card for two packages of 10½ kg, containing weights, sent from the Kartuzy Post Office to the Polish Harbour Post Office in the Free City. KARTUZY C cds 26.1.34, the extremely rare POLSKI URZĄD POCZTOWY GDAŃSK 3 c arrival cds 27.1.34 and a signature Rost on the reverse.

>> >> >>

The Polish Post in the Free City of Gdańsk 1920 - 1939, Page 15.
Hits: 940

Added: 20/12/2016
Copyright: 2021 Danzig.org