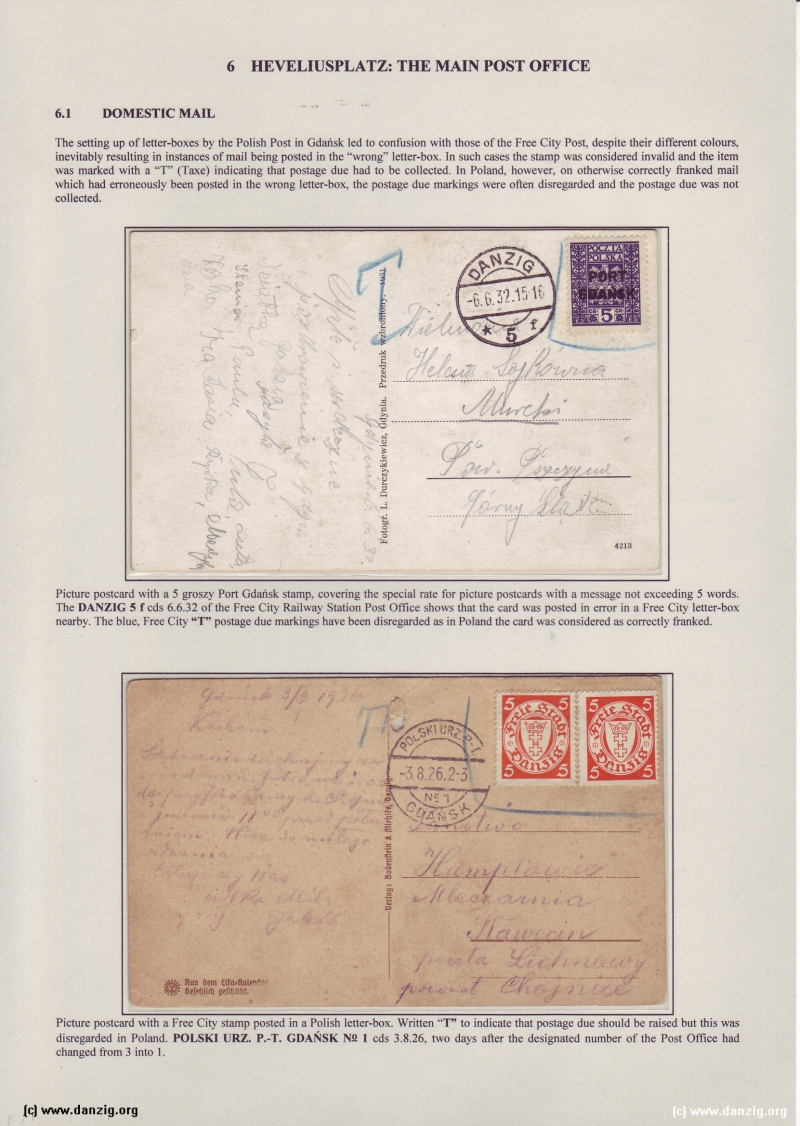 >> THE POLISH POST IN THE FREE CITY OF GDAŃSK 1920 - 1939
>> POCZTA POLSKA W WOLNYM MIEŚCIE GDAŃSKU 1920 - 1939

>> 6 HEVELIUSPLATZ: THE MAIN POST OFFICE
6.1 DOMESTIC MAIL

The setting up of letter-boxes by the Polish Post in Gdańsk led to confusion with those of the Free City Post, despite their different colours, inevitably resulting in instances of mail being posted in the "wrong" letter-box. In such cases the stamp was considered invalid and the item was marked with a "T" (Taxe) indicating that postage due had to be collected. In Poland, however, on otherwise correctly franked mail which had erroneously been posted in the wrong letter-box, the postage due markings were often disregarded and the postage due was not collected.

Picture postcard with a 5 groszy Port Gdańsk stamp, covering the special rate for picture postcards with a message not exceeding 5 words. The DANZIG 5 f cds 6.6.32 of the Free City Railway Station Post Office shows that the card was posted in error in a Free City letter-box nearby. The blue, Free City "T" postage due markings have been disregarded as in Poland the card was considered as correctly franked.

Picture postcard with a Free City stamp posted in a Polish letter-box. Written "T" to indicate that postage due should be raised but this was disregarded in Poland. POLSKI URZ. P.-T. GDAŃSK No 1 cds 3.8.26, two days after the designated number of the Post Office had changed from 3 into 1.

>> >> >>

The Polish Post in the Free City of Gdańsk 1920 - 1939, Page 31.
Hits: 370

Added: 22/12/2016
Copyright: 2019 Danzig.org
9,514,236 total views, 2,161 views today