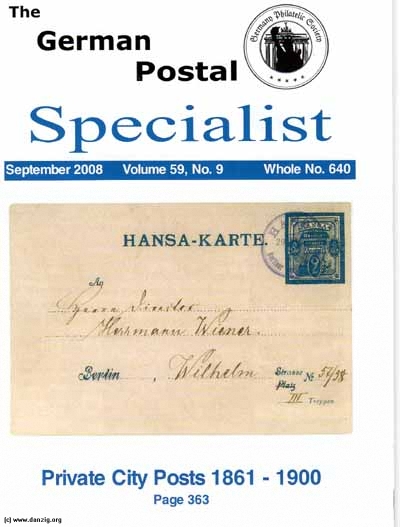 - Articles;
Private City Posts 1861 - 1900, page 363.
by Mike Peter.
After the Battle, page 369.
by Howard Geisler.
The Germans in the Caprivi Strip - Some More of the Story, page 374.
by Drew A. Nicholson.
German Censorship Markings in Greece, page 379.
by Myron Fox.

- Columns;
Book Review; Folded Typewriter Postcards, page 372.
Book Review; Michel Germany Picture Postcards and Postal Stationery Catalogue, page 387.
Collector Questions, page 373.
Letters to the Editor, page 355.
Mit Deutscher Post; Rohrpost = Pneumatic Mail, Part 3; Other Rohrpost Systems, page 382.
by Gerhard Binder and Jim Graue.
New Issues, page 382.
The View From Here; On More GPS Members, page 361.

- Departments;
Adlets, page 395.
Membership Report, page 394.
Hits: 1759

Added: 29/10/2008
Copyright: 2023 Danzig.org