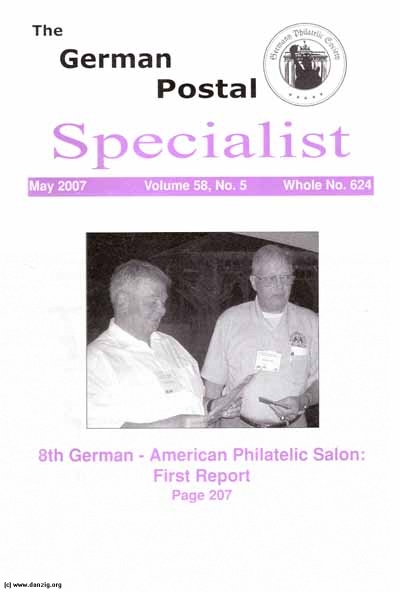 - Articles;
The Story of the LZ-126 (ZR-3), page 185.
by Mike Peter and John Mattler.
Special Uses of Cash Paid Markings, page 193.
by Benjamin R. Beede.
Peace Issue Links Bavarian Republic and Mecklenburg-Vorpommern, page 196.
by Kenneth Steuer.

- News;
Germany on Exhibit, page 204.
8th German-American Philatelic Salon; First Report, page 207.
+ Obituary; Harry W. Wilcke, MD. page 213.

- Columns;
Collector Questions, page 195.
From the President, page 215.
Letters to the Editor, page 179.
New Issues, page 199.
The View From Here; Condition and Appreciation, page 183.

- Departments;
Adlets, page 220.
Membership Report, page 219.
Hits: 1762

Added: 29/10/2008
Copyright: 2023 Danzig.org