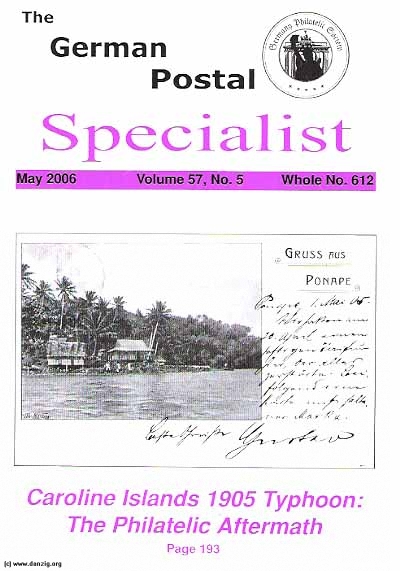 The German Postal Specialist.

- Articles;
Postal Chronicles of the German Plebisictes, page 181.
by Alfred F. Kugel.
The Cormoran Story, page 187.
by John R. Norris.
Caroline Islands 190 Typhoon; The Philatelic Aftermath, page 193
by Paul Larson.
A Common Cover with Tales to Tell, page 197.
by Werner Sepper.
German Philatelic Movie Props, page 200.
by Dr. Thomas J. Richards.
D.D.R. Essays on eBay; Caveat Emptor, page 201.
by Helmut Weigelt.

- News;
8th American-German Salon, page 213.

- Columns;
Book Review; Understanding Transatlantic Mail, Volume I, page 202.
Letters to the Editor, page 179.
Mit Deutscher Post; Rückschein, page 205.
New Issues, page 209.

- Departments;
Adlets, page 220.
Membership Report, page 219.
Hits: 1701

Added: 30/10/2008
Copyright: 2023 Danzig.org