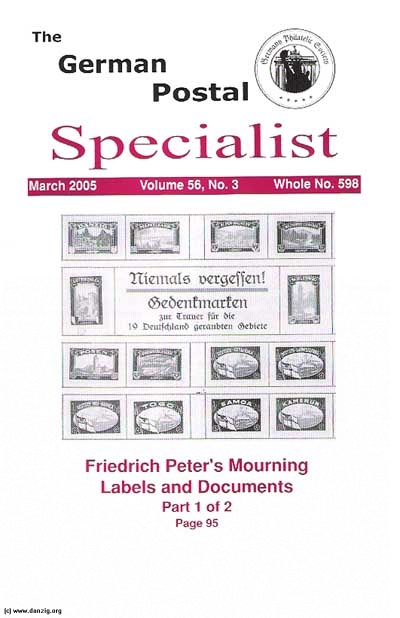 The German Postal Specialist 2005.

- Articles;
Friedrich Peter's Mourning Labels and Documents; Part 1, page 95.
by Dr. Jason H. Manchester.
Economical Folded Business Postcards, page 105.
by Robert M. Bell and Ian McQueen.
Currency Reform Treasure, page 113.
by Ingeburg L. Fisher.

- Columns;
Book Review; German Norht Atlantic Catapult Flights 1929-1935, page 116.
by Alan Waren.
Book Review; The Offset berlin Post Office Stamps of 1920, 2nd Edition, page 117.
by Jim Graue.
Collector Questions, page 118.
Letters to the Editor, page 91.
New Issues, page 121.

- Departments;
Adlets, page 131.
Membership Report, page 130.
Hits: 1723

Added: 30/10/2008
Copyright: 2023 Danzig.org