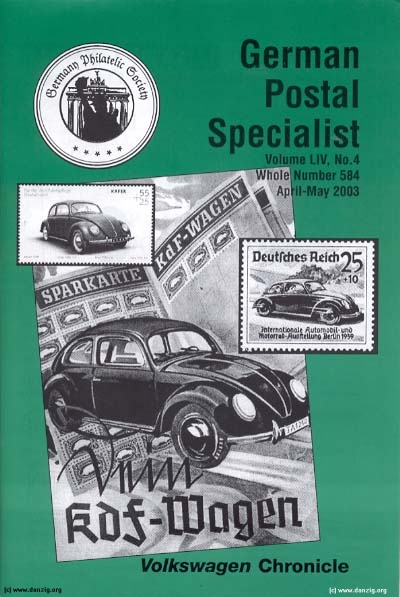 German Postal Specialist, April - May 2003.

- Features;
My Favorite Find; A 10-billion mark discovery, page 160.
by Charles L. Williams.
The People's Car; A Volkswagen Chronicle, page 164.
by Daniel C. Olsen.
Color Illustrations
Seepost, Schiffspost and More, page 212.
by A. Lavar Taylor.
A Saarbrücken to Iseland Cover, page 215.
by Howard W. Geisler.

- News;
Minutes of the General Meeting, page 140.
G.P.S. Convention Snapshots, page 142.
G.P.S. Awards at Colopex, page 148.
March New Issues, page 218.

- Departments;
G.P.S. Mailbag, page 138.
Editor's Notes, page 150.
Collector's Questions, page 152.
G.P.S. Membership Report, page 204.
G.P.S. Study Group Journals, page 206.
G.P.S. Study Groups, page 210.
Adlets, page 224.
Hits: 1740

Added: 30/10/2008
Copyright: 2023 Danzig.org