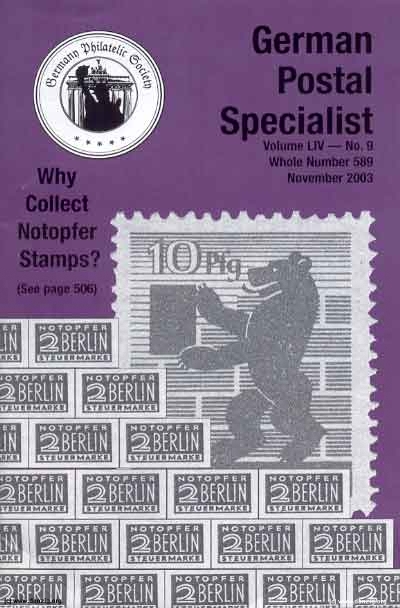 German Postal Specialist 2003.

- Features;
Why Collect Notopfer Stamps?, page 506.
by George Rath.
My Search for Small Packet Rates for the Zepplin Hindenburg, page 516.
by Cheryl Ganz.
The Frugal Philatelist; The Byzantine Machinations of the DDR Exchange Program, page 520.
by M.C. Gilhausen.

- News;
New Issues; November, page 532.

- Departments;
Collector Questions, page 502.
G.P.S. Chapters, page 514.
G.P.S. Study Groups, page 530.
Book Review, page 534.
Awards and Honors, page 536.
Adlets, page 540.
G.P.S. Membership Report, page 541.
Hits: 1847

Added: 30/10/2008
Copyright: 2023 Danzig.org