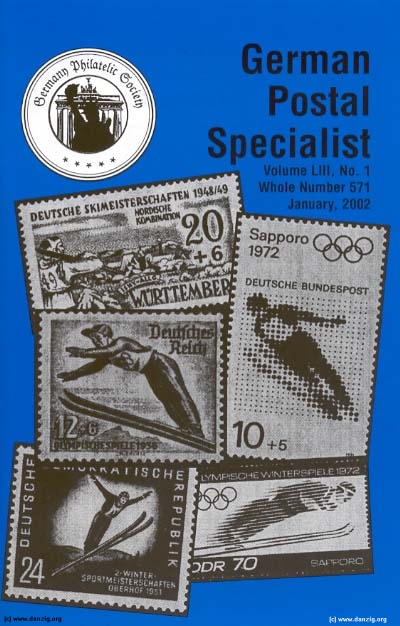 German Postal Specialist 2002.

- Features;
The 1936 Winter Olympics, page 10.
by Richard Weigand.
Currency Reform 1948; The Puzzle of 23 June Cancels, page 18.
by Horst Duhnke.
Zepplin Letters to Czechosovakia, page 22.
by Dr. Artur M. Knoth.
The Frugal Philatelist, page 36.
by M.C. Gilhausen.
A 1944 Mourning Letter; a Small Fragment of a Great Tragedy, page 38.
by Fred Baumann.

- News;
Come Join Us at Aripex, page 6.
G.P.S. Exhibits at Aripex 2002, page 6.
BDPh Exhibits for the Sixth German-American Salon, page 8.
Record price for century-old German machine cancels, page 28.
New Issues of January, page 30.

- Departments;
G.P.S. Mail Box, page 514.
G.P.S. Membership Report, page 515.
Adlets, page 536.
Hits: 1814

Added: 30/10/2008
Copyright: 2023 Danzig.org