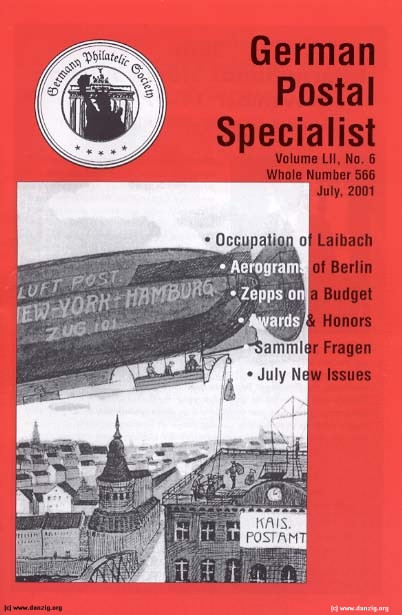 German Postal Specialist.

- Articles;
The Last Four Berlin Aerograms, page 280.
by Ingeburg L. Fisher.
Flea Markets of Germany, page 285.
by James Morrison.
Provinz von Laibach; four German occupation covers. page 286.
by Eugene Preisack.
Inexpensive Zeppelins; how to start a Zeppelin collection. page 292.
by Bob Wilcsek.

- Departments;
G.P.S. Mail Box, page 272.
Balpex 2001, page 274.
Guidelines for Submissions, page 275.
Sammler Fragen, page 276.
G.P.S. Membership Report, page 297.
July New Issues, page 298.
G.P.S. Study Groups, page 303.
Awards & Honors, page 304.
G.P.S. Events at Balpex 2001, page 308.
GPS Chapters page 309.
Adlets, page 310.
Hits: 1685

Added: 30/10/2008
Copyright: 2023 Danzig.org