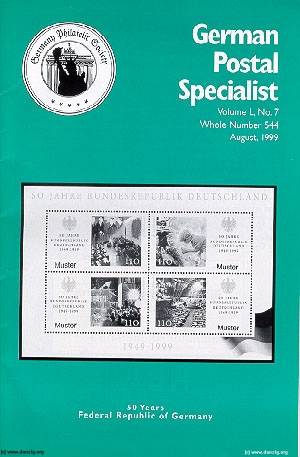 German Postal Specialist 1999.

- Articles;
The Frugal Philatelist, page 354.
by M.C. Gilhausen.
Not your average cover... Mi # 145 II - A single franking Rotary Printing Upper Margin, page 357.
by Günther Becthold, page 357.
Early Bavarian Postmarks and Cancels - An Introduction, page 359.
by C. Victor Hanson, Jr.
Feldpost Free Franking for Hungarian Jews, page 358.
by Benjamin R. Beede.
Concentration Camp Ostarbeiter Mail, page 370.
by George G. Werbisky.

- Departments;
G.P.S. Chapters, page 348.
Letters to the Editor, page 349.
G.P.S. Nachrichten, page 350.
Sammler Fragen, page 351.
Reivews of Books and Journals, page 374.
G.P.S. Study Groups, page 358.
Adlets, page 386.
Secretary's Membership Report, page 389.
Hits: 1710

Added: 31/10/2008
Copyright: 2023 Danzig.org