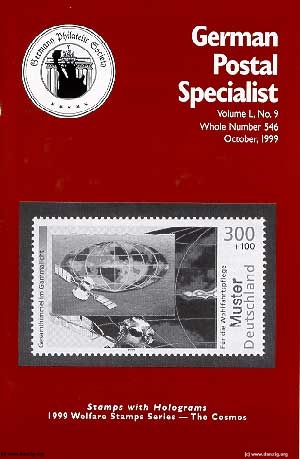 German Postal Specialist 1999.

- Articles;
The Frugal Philatelist, page 447.
by M.C. Gilhousen.
Forgeries of Concentration Camp Prisoner Mail, page 451.
by Erik Lordahl.
Stamp Bourse, 7 Days a Week, 365 Days a Year! page 459.
by Jerry Jensen.
But have you ever seen one? Post cards at the printed matter rate, page 464.
by R. Anders.

- Departments;
G.P.S. Chapters, page 436.
G.P.S. Nachrichten, page 437.
Sammler Fragen, page 445.
G.P.S. Study Groups, page 445.
Reivews of Books and Journals, page 471.
Adlets, page 473.
Secretary's Membership Report, page 476.
Hits: 1649

Added: 31/10/2008
Copyright: 2023 Danzig.org