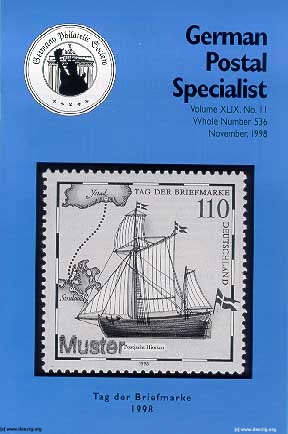 German Postal Specialist 1998.

- Articles;
50th G.P.S. Anniversary Program, page 498.
Letters from the Ashes - An Addendum, page 500.
by Erik Lordahl and Henry Schwab.
Some thoughts on the 'Berlin Mailbox Mystery', page 504.
by Ingeburg L. Fisher.
But have you ever seen one, page 508.
by R. Anders.
Not your Average Cover, page 512.
by Günter Bechtold.
An Interview with Günter Bechtold, page 515.
by Harold Peter, Transcribed by Noel Kasper.

- Departments;
G.P.S. Chapters, page 492.
G.P.S. Study Groups, page 494.
G.P.S Nachrichten, page 497.
New Issues, page 521.
Adlets, page 531.
Secretary's Membership Report, page 534.
Hits: 1594

Added: 31/10/2008
Copyright: 2021 Danzig.org