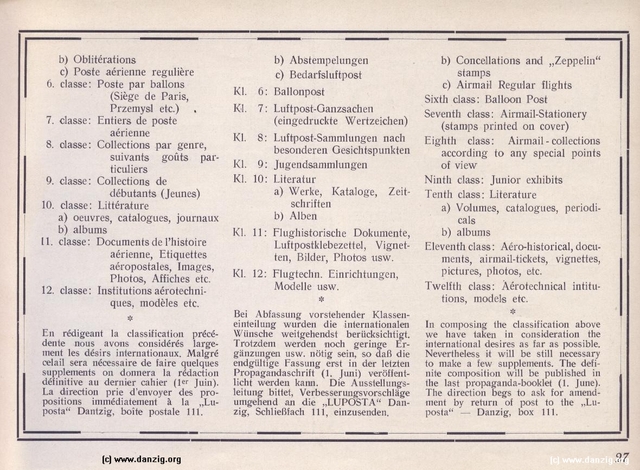 Luposta Danzig - Nr. 2 / April 1932.

Internationale Luftpost Ausstellung, Danzig. --- International Air-Post-Exhibition.
Danzig 21. - 31. Juli 1932.

Klasseneinteilung / Classification.
Klass 5; Zeppelin-Post.
b) Abstempelungen.
c) Bedarfsluftpost.
Klass 6; Ballonpost.
Klass 7; Luftpost-Ganzsachen, eingedruckte Wertzeichen.
Klass 8; Luftpost-Sammlungen nach besonderen Gesichtspunkten.
Klass 9; Jugendsammlungen.
Klass 10; Literatur.
a) Werke, Kataloge, Zeitschriften.
b) Alben.
Klass 11; Flughistorische Dokumente, Luftpostklebezettel, Vignetten, Bilder, Photos usw.
Klass 12; Flugtechn. Einrichtungen, Modelle usw.

Bei Abfassung vorstehender Klasseneinteilung wurden die internationalen Wünsche weitgehendst berücksichtigt. Trotzdem werden noch geringe Ergänzungen usw. nötig sein, so dass die endgültige Fassung erst in der letzten Propagandaschrift (1. Juni) veröffentlicht werden kann. Die Ausstellungsleitung bittet, Verbesserungsvorschläge umgehend an die 'Luposta' Danzig, Schliessfach 111, einzusenden.

Classification / Klasseneinteilung.
Fifth class; Zeppelin-post.
b) Concellations and 'Zeppelin' stamps.
c) Airmail Regular flights.
Sixth class; Balloon Post.
Eighth class; Airmail-collections according to any special points of view.
Ninth class; Junior exhibits.
Tenth class; Litterature.
a) Volumes, catalugues, periodicals.
b) Albums.
Eleventh class; Aéro-historical documents, airmail-tickets, vignettes, pictures, photos, etc.
Twelfth class; Aérotechnical institutions, models etc.

In composing the classification above we have taken in consideration the international desires as far as possible. Nevertheless it will be still necessary to make a few supplements. The definite composition will be published in the last propaganda-booklet (1. June). The direction begs to ask for amendment by return of post to the 'Luposta' - Danzig, box 111.
Hits: 1132

Added: 06/08/2009
Copyright: 2021 Danzig.org