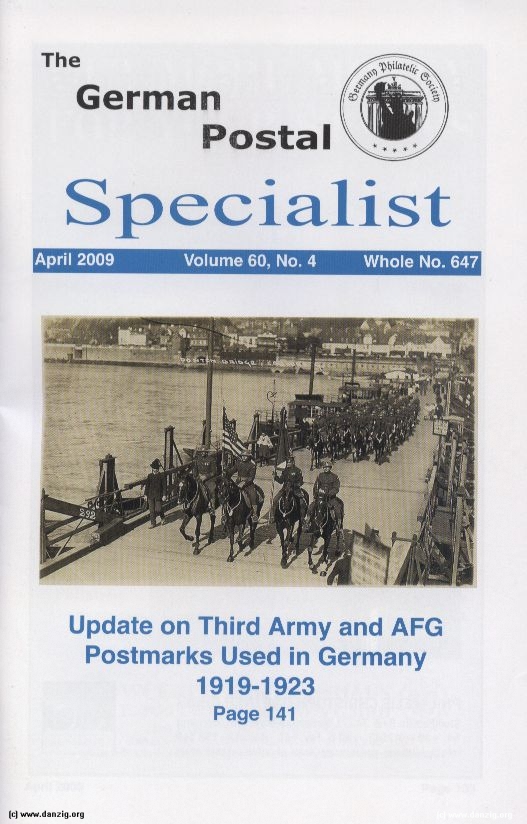 - Articles;
Update on Third Army and AFG Postmarks Usd in Germany 1919 - 1923.
by Alfred F. Kugel.
Provinz von Laibach.
by Eugene Preisack.
Industrial Accidents.
by Howard Geisler.
No to PVC.
by Fred Korr.

- News;
GSP Board Meeting Minutes.
GPS General Membership Meeting.
Germany on Exhibit.

- Columns;
Collecting Warsaw Mocals.
Letters to the Editor.
Mit Deutschzer Post: Perfins.
New Issues.
View From Here: on GPS Elections.

- Departents;
Adlets.
Membership Report.

- On the Cover;
American troops crossing the Rhein to occupy Koblenz, December 13, 1978.

Editor; James W. Grau, 11911 E. Connor Rd.
Valleyford WA 99036 - jimg@air-pipe.com
Advertising Manager; Harold E. Peter, 37850 S. Golf Course Dr.
Tucson AZ 85739 - hepeteramgs@aol.com

The German Postal Specialist.
April 2009, Volume 60, No. 4, Whole No. 647.
Hits: 1895

Added: 29/08/2010
Copyright: 2023 Danzig.org