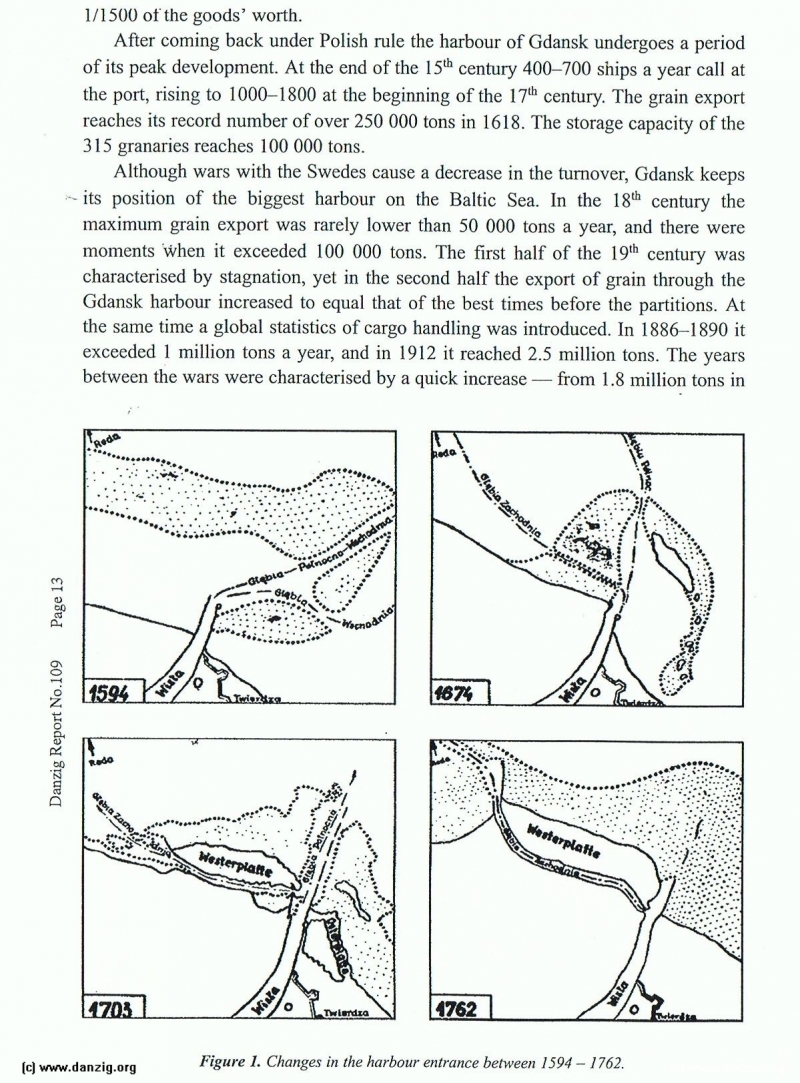 After coming back under Polish rule the harbour of Gdansk undergoes a period of its peak development. At the end of the 15th century 400—700 ships a year call at the port, rising to 1000—1800 at the beginning of the 17th century. The grain export reaches its record number of over 250 000 tons in 1618. The storage capacity of the 315 granaries reaches 100 000 tons.

Although wars with the Swedes cause a decrease in the turnover, Gdansk keeps its position of the biggest harbour on the Baltic Sea. In the 1 8th century the maximum grain export was rarely lower than 50 000 tons a year, and there were moments when it exceeded 100 000 tons. The first half of the 1 9th century was characterised by stagnation, yet in the second half the export of grain through the Gdansk harbour increased to equal that of the best times before the partitions. At the same time a global statistics of cargo handling was introduced. In 1886—1 890 it exceeded I million tons a year, and in 1912 it reached 2.5 million tons. The years between the wars were characterised by a quick increase from 1.8 million tons in



Danzig Report Vol. 1 - Nr. 109 - October - November - December - 2000, Page 19.
Hits: 765

Added: 28/07/2015
Copyright: 2020 Danzig.org
15,417,031 total views, 10,058 views today