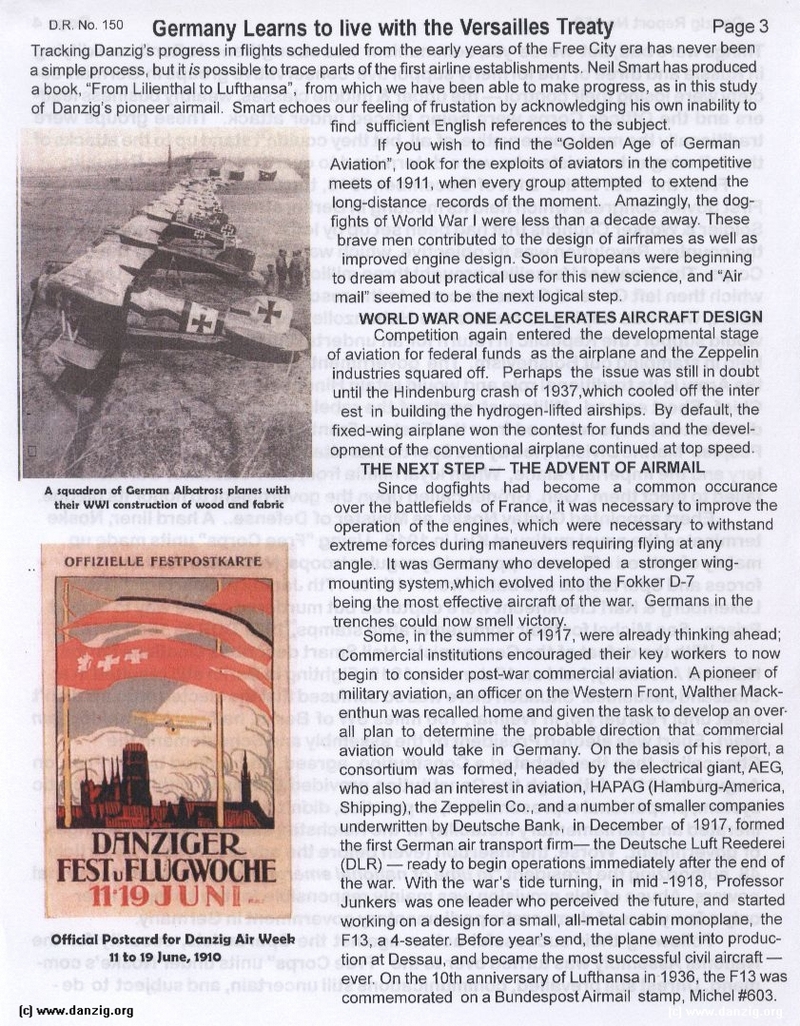 Germany Learns to live with the Versailles Treaty:

Tracking Danzig's progress in flights scheduled from the early years of the Free City era has never been a simple process, but it is possible to trace parts of the first airline establishments. Neil Smart has produced a book, "From Lilienthal to Lufthansa", from wich we have been able to make progress, as in this study of Danzig's pioneer airmail. Smart echoes our feeling of frustration by acknowledging his own inability to find sufficient English references to the subject.
If you wish to find the "Golden Age of German Aviation", look for the exploits of aviatiors in the competitive meets of 1911, when every group attempted to extend the long-distance records of the moment. Amazingly, the dogfights of World War I were less than a decade away; These brave men contributed to the design of airframes as well as improved engine design. Soon Europeans were beginning to dream about practical use for this new science, and "Airmail" seemed to be the next logical step. . .

*- A squadron of German Albatross planes with their WWI constuction of wood and fabric.
*- Official Postcard for Danzig Air Weeks 11 to 19 June, 1910.

Danzig Study Group U.S.A.
Danzig Report Nr. 150 - January - March - April - 2011.
Danzig Report Nr. 150 - 2010, page 3.
Hits: 1536

Added: 01/03/2011
Copyright: 2022 Danzig.org