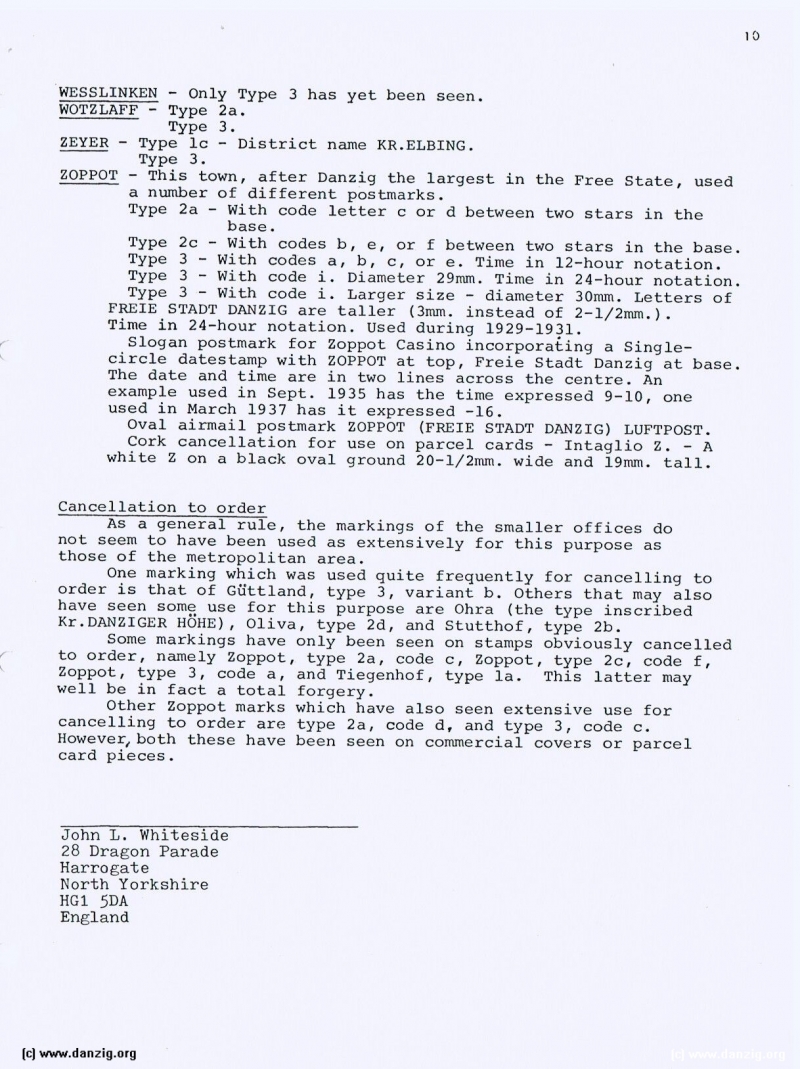 >> POSTMARKS OF THE SMALLER OFFICES IN THE FREE STATE

WESSLINKEN - Only Type 3 has yet been seen.

WOTZLAFF - Type 2a.  -  -  Type 3.

ZEYER - Type 1c - District name KREIS ELBING.  -  -  Type 3.

ZOPPOT — This town, after Danzig the largest in the Free State, used a number of different postmarks.
Type 2a - With code letter c or d between two stars in the base.
Type 2c - With codes b, e, or f between two stars in the base.
Type 3 - With codes a, b, c, or e. Time in 12-hour notation.
Type 3 - With code i. Diameter 29 mm. Time in 24-hour notation.
Type 3 - With code i. Larger size - diameter 30 mm. Letters of FREIE STADT DANZIG are taller (3mm. instead of 2-1/2 mm.). Time in 24-hour notation. Used during 1929-1931. Slogan postmark for Zoppot Casino incorporating a Single- circle datestamp with ZOPPOT at top, Freie Stadt Danzig at base. The date and time are in two lines across the centre. An example used in Sept. 1935 has the time expressed 9-10, one used in March 1937 has it expressed -16. Oval airmail postmark ZOPPOT (FREIE STADT DANZIG) LUFTPOST. Cork cancellation for use on parcel cards — Intaglio Z. — A white Z on a black oval ground 20-1/2 mm. wide and 19 mm. tall.

Cancellation to order
As a general rule, the markings of the smaller offices do not seem to have been used as extensively for this purpose as those of the metropolitan area.

One marking which was used quite frequently for cancelling to order is that of Güttland, type 3, variant b. Others that may also have seen some use for this purpose are Ohra (the type inscribed Kr. DANZIGER HOHE), Oliva, type 2d, and Stutthof, type 2b.

Some markings have only been seen on stamps obviously cancelled to order, namely Zoppot, type 2a, code c, Zoppot, type 2c, code f, Zoppot, type 3, code a, and Tiegenhof, type la. This latter may well be in fact a total forgery. Other Zoppot marks which have also seen extensive use for cancelling to order are type 2a, code d, and type 3, code c. However, both these have been seen on commercial covers or parcel card pieces.

John L. Whiteside
28 Dragon Parade  -  -  Harrogate
North Yorkshire  -  -  HG1 5DA
England



Danzig Report  Nr. 8 - March - April - 1976, Page 10.
Hits: 954

Added: 25/05/2015
Copyright: 2021 Danzig.org