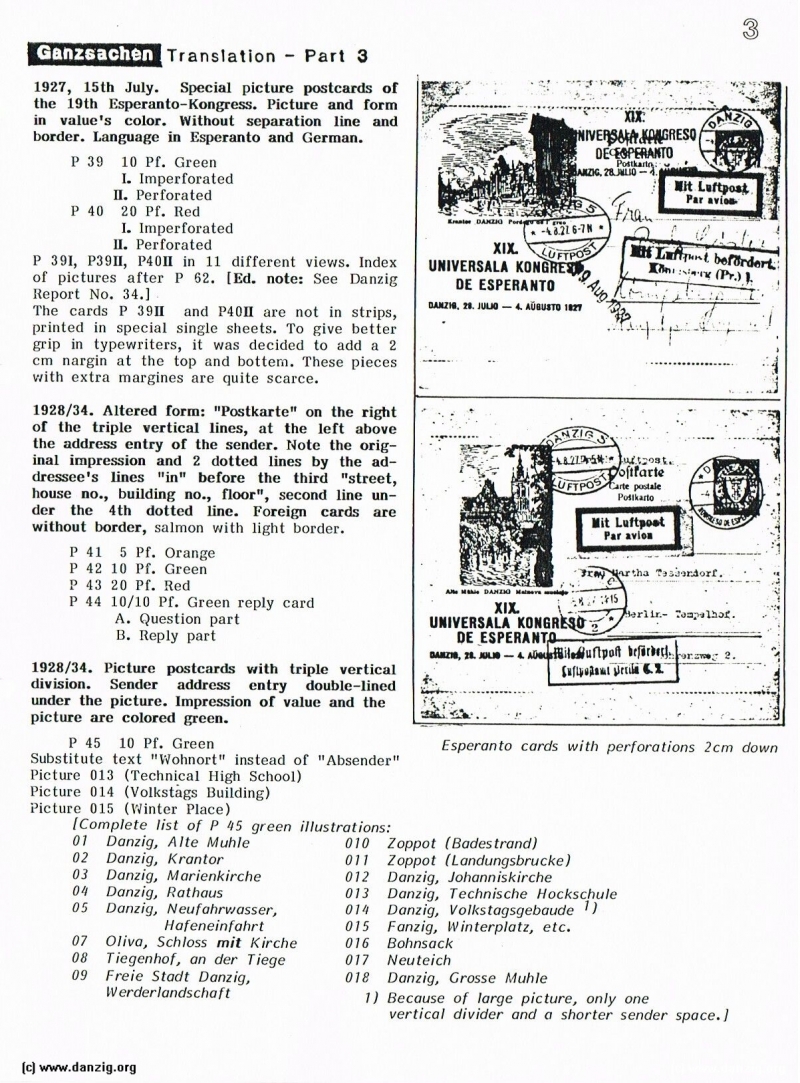 1927, 15th July. Special picture postcards of the 19th Esperanto-Kongress. Picture and form in value's color. Without separation line and border. Language in Esperanto and German.
P 39 10 Pf. Green
I.    Imperforated
II. Perforated
P 40 20 Pf. Red
I. Imperforated
II. Perforated

P 391, P3911, P4011 in 11 different views. Index of pictures after p 62. [Ed. note: See Danzig Report No. 34.]

The cards P 3911 and P4011 are not in strips, printed in special single sheets. To give better grip in typewriters, it was decided to add a 2 cm nargin at the top and bottem. These pieces with extra margines are quite scarce.

1928/34. Altered form: "Postkarte" on the right of the triple vertical lines, at the left above the address entry of the sender. Note the origi nal impression and 2 dotted lines by the add ressee's lines "in" before the third "street, house no., building no., floor", second line under the 4th dotted line. Foreign cards are without border, salmon with light border.

p 41 5 Pf. Orange
P 42 10 Pf. Green
P 43 20 Pf. Red
p 44 10/10 Pf. Green reply card
A. Question part
B. Reply part

1928/34. Picture postcards with triple vertical division. Sender address entry double-lined under the picture. Impression of value and the picture are colored green.

P 45 10 Pf. Green
Substitute text "Wohnort" instead of "Absender"
Picture 013 (Technical high School)
Picture 014 (Volkstags Building)
Picture 015 (Winter Place)

(Complete list of P 45 green illustrations:
01 Danzig, Alte Muhie                      010 Zoppot (Bodes trand)
02 Danzig, Krantor                            011 Zoppot (Landungsbrucke)
03 Danzig, Marienkirche                 012 Danzig, Johann iskirche
04 Danzig, Rathaus                           013 Danzig, Technische Hockschule
05 Danzig, Neufahrwasser,           014 Danzig, Volkstagsgebaude l)
Hofeneinfohrt              015 Fanzig,
07 Oliva, Schloss mit Kirche          016 Bohnsack
08 Tiegenhof, an der Tiege            017 Neuteich
09 Freie Stadt Danzig,                     018 Danzig, Grosse Muhie
W erderlandscha ft                                  1) Because of large picture, only one vertical divider and a shorter sender space.)



Danzig Report Vol. 1 - Nr. 53 - October - November - December - 1986, Page 3.
Hits: 497

Added: 21/06/2015
Copyright: 2019 Danzig.org
9,514,261 total views, 2,186 views today