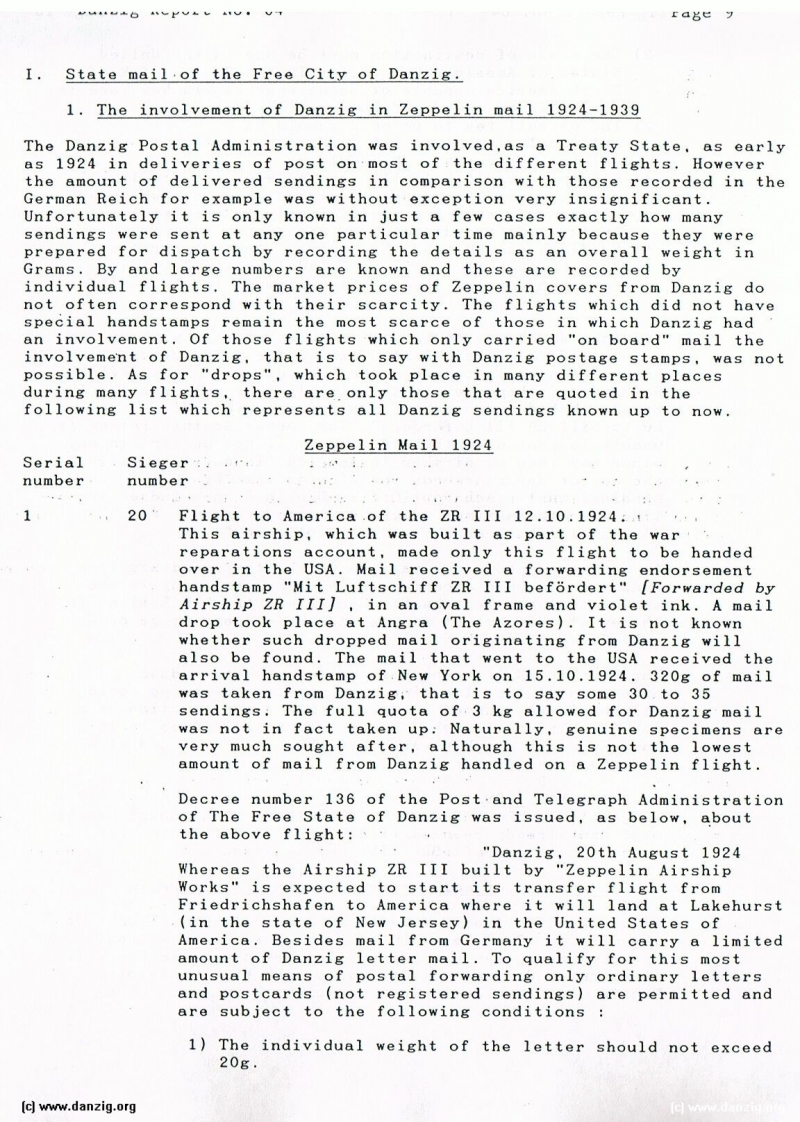 I. State mail of the Free City of Danzig.
1. The involvement of Danzig in Zeppelin mail 1924-1939
The Danzig Postal Administration was involved,as a Treaty State, as early as 1924 in deliveries of post on most of the different flights. However the amount of delivered sendings in comparison with those recorded in the German Reich for example was without exception very insignificant. Unfortunately it is only known in just a few cases exactly how many sendings were sent at any one particular time mainly because they were prepared for dispatch by recording the details as an overall weight in Grams. By and large numbers are known and these are recorded by individual flights. The market prices of Zeppelin covers from Danzig do not often correspond with their scarcity. The flights which did not have special handstamps remain the most scarce of those in which Danzig had an involvement. Of those flights which only carried "on board" mail the involvement of Danzig. that is to say with Danzig postage stamps, was not possible. As for "drops", which took place in many different places during many flights,, there are only those that are quoted in the following list which represents all Danzig sendings known up to now.

Zeppelin Mail 1924
Flight to America of the ZR III 12.10.1924. This airship, which was built as part of the war reparations account, made only this flight to be handed over in the USA. Mail received a forwarding endorsement handstamp "Mit Luftschiff ZR III befördert" [Forwarded by Airship ZR III] , in an oval frame and violet ink. A mail drop took place at Angra (The Azores). It is not known whether such dropped mail originating from Danzig will also be found. The mail that went to the USA received the arrival handstamp of New York on 15.10.1924. 320g of mail was taken from Danzig, that is to say some 30 to 35 sendings. The full quota of 3 kg allowed for Danzig mail was not in fact taken up; Naturally, genuine specimens are very much sought after, although this is not the lowest amount of mail from Danzig handled on a Zeppelin flight.

Decree number 136 of the Postand Telegraph Administration of The Free State of Danzig was issued, as below, about the above flight: "Danzig, 20th August 1924

Whereas the Airship ZR III built by "Zeppelin Airship Works" is expected to start its transfer flight from Friedrichshafen to America where it will land at Lakehurst (in the state of New Jersey) in the United States of America. Besides mail from Germany it will carry a limited amount of Danzig letter mail. To qualify for this most unusual means of postal forwarding only ordinary letters and postcards (not registered sendings) are permitted and are subject to the following conditions
1) The individual weight of the letter should not exceed 20g.



Danzig Report Vol. 1 - Nr. 64 - July - August - September - 1989, Page 9.
Hits: 850

Added: 27/06/2015
Copyright: 2019 Danzig.org
13,130,085 total views, 3,541 views today