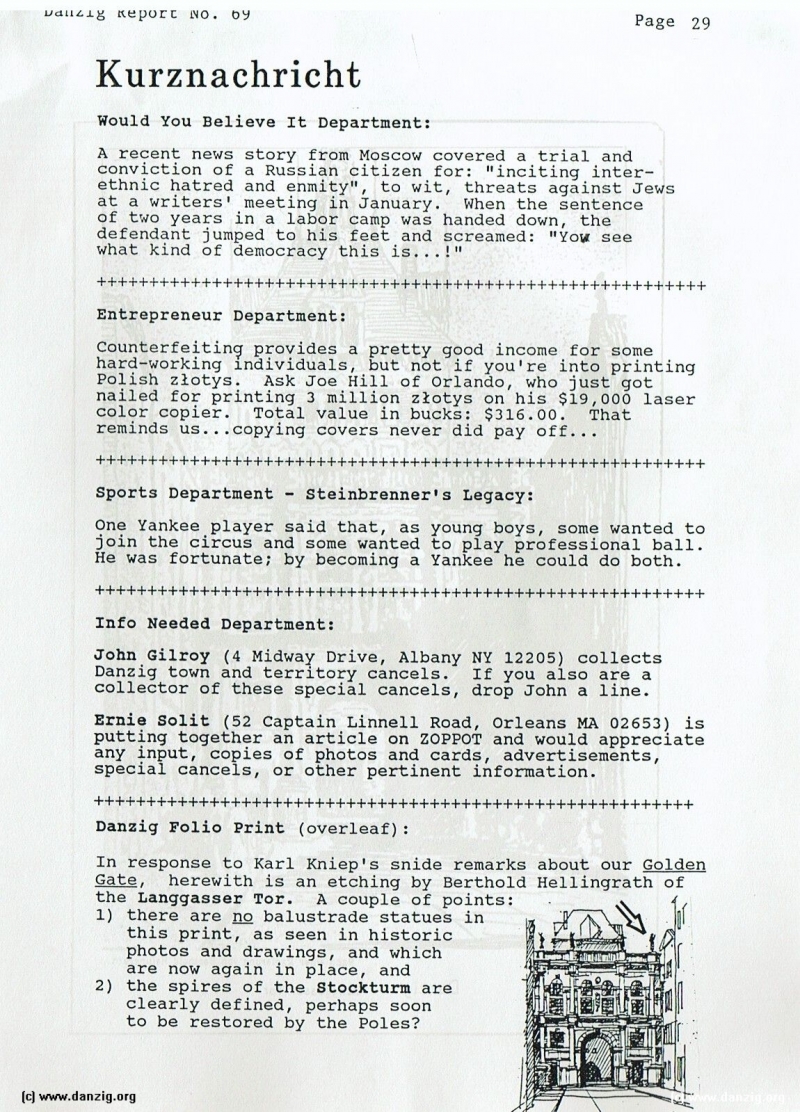 Kurznachricht

Would You Believe It Department:
A recent news story from Moscow covered a trial and conviction of a Russian citizen for: "inciting inter- ethnic hatred and enmity", to wit, threats against Jews at a writers' meeting in January. When the sentence of two years in a labor camp was handed down, the defendant jumped to his feet and screamed: "Yoi see what kind of democracy this is...!"

Entrepreneur Department:
Counterfeitinc provides a pretty good income for some hard—working individuals, but not if you're into printing Polish zlotys. Ask Joe Hill of Orlando, who just got nailed for printing 3 million z'otys on his $19,000 laser color copier. Total value in bucks: $316.00. That reminds us.. .copying covers never did pay off...

Sports Department - Steinbrenner's Legacy:
One Yankee player said that, as young boys, some wanted to join the circus and some wanted to play professional ball. He was fortunate; by becoming a Yankee he could do both.

Info Needed Department:
John Gilroy (4 Midway Drive, Albany NY 12205) collects Danzig town and territory cancels. If you also are a collector of these special cancels, drop John a line. Ernie Solit (52 Captain Linnell Road, Orleans MA 02653) is putting together an article on ZOPPOT and would appreciate any input, copies of photos and cards, advertisements, special cancels, or other pertinent information.

Danzig Folio Print (overleaf):
In response to Karl Kniep's snide remarks about our Golden Gate, herewith is an etching by Berthold Hellingrath of the Langgasser Tor. A couple of points:

1) there are no balustrade statues in this print, as seen in historic photos and drawings, and which are now again in place, and
2) the spires of the Stockturm are clearly defined, perhaps soon to be restored by the Poles?



Danzig Report Vol. 1 - Nr. 69 - October - November - December - 1990, Page 29.
Hits: 723

Added: 29/06/2015
Copyright: 2020 Danzig.org