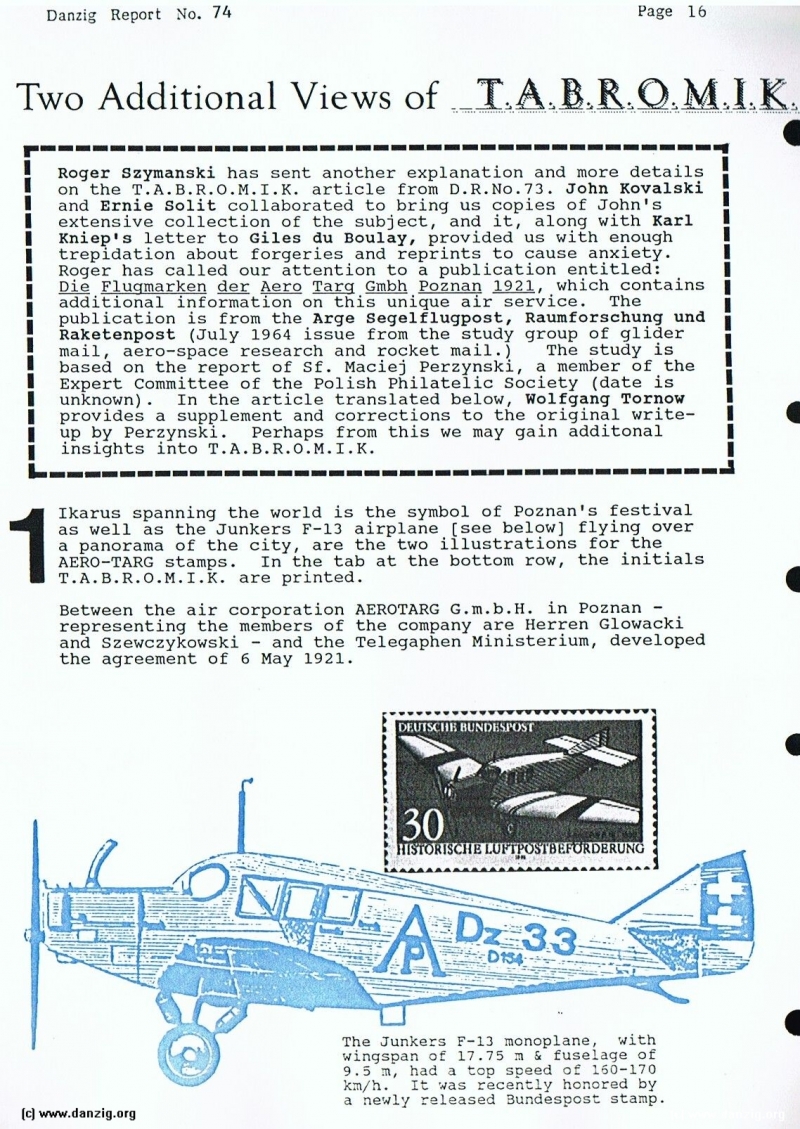 Two Additional Views of T.A.B.R.O.M.I.K

Roger Szymanski has sent another explanation and more details on the T.A.B.R.O.M.I.K. article from D.R. No.73. John Kovaiski and Ernie Solit collaborated to bring us copies of John's extensive collection of the subject, and it, along with Karl Kniep's letter to Giles du Boulay, provided us with enough trepidation about forgeries and reprints to cause anxiety. Roger has called our attention to a publication entitled: Die Flugmarken d.er Aero Targ Gmbh Poznan 1921, which contains Ia dditional information on this unique air service. The publication is from the Arge Segelflugpost, Raumforschung und Raketenpost (July 1964 issue from the study group of glider jm ail, aero-space research and rocket mail.) The study is based on the report of Sf. Maciej Perzynski, a member of the Expert Committee of the Polish Philatelic Society (date is unknown). In the article translated below, Wolfgang Tornow provides a supplement and corrections to the original write—up by Perzynski. Perhaps from this we may gain additonal  insights into T.A.B.R.O.M.I.K.


Ikarus spanning the world is the symbol of Poznan's festival as well as the Junkers F-l3 airplane [see below] flying over a panorama of the city, are the two illustrations for the AERO-TARG stamps. In the tab at the bottom row, the initials T.A.B.R.O.M.I.K. are printed.

Between the air corporation AEROTARG G.m.b.H. in Poznan - representing the members of the company are Herren Glowacki and Szewczykowski - and the Telegaphen Ministeriurn, developed the agreement of 6 May 1921.

The Junkers F-13 monoplane, with wingspan of 17.75 m & fuselage of 9.5 m, had a top speed of 160—170 km/h. It was recently honored by a newly released Bundespost stamp.



Danzig Report  Nr. 74 - January - February - March - 1992, Page 16.
Hits: 925

Added: 01/07/2015
Copyright: 2021 Danzig.org