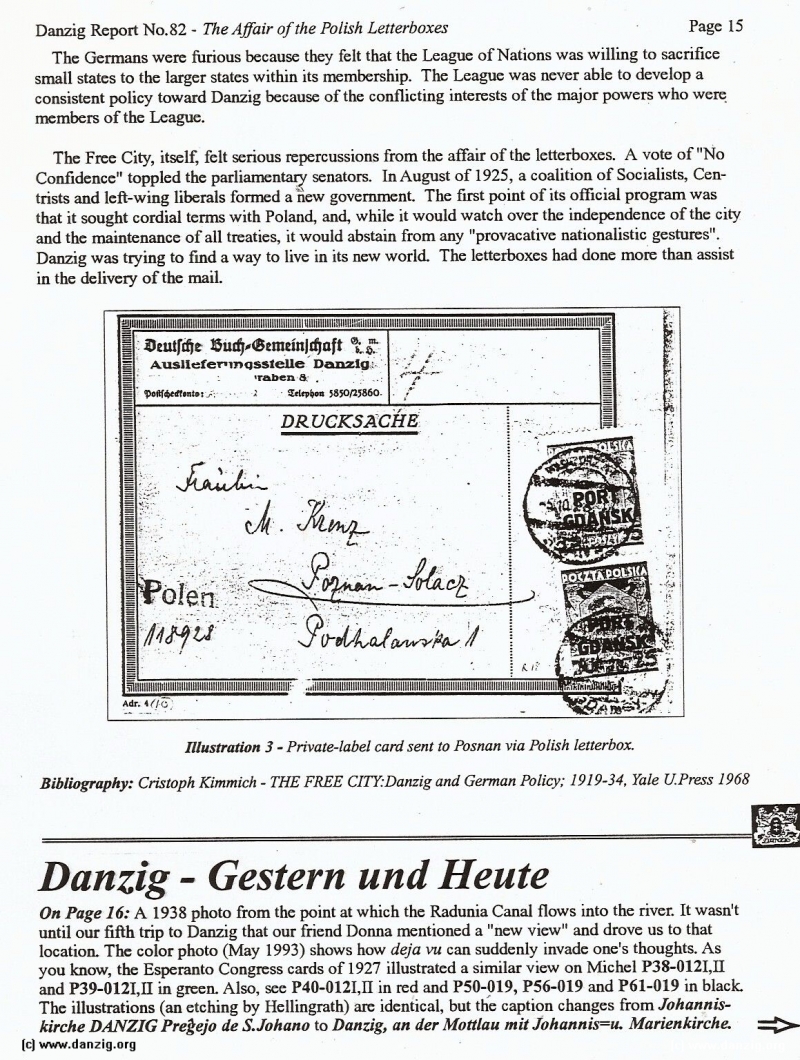 The Germans were furious because they felt that the League of Nations was willing to sacrifice small states to the larger states within its membership. The League was never able to develop a consistent policy toward Danzig because of the conflicting interests of the major powers who were members of the League.

The Free City, itself, felt serious repercussions from the affair of the letterboxes. A vote of "No Confidence" toppled the parliamentai' senators. In August of 1925, a coalition of Socialists, Cent rists and left-wmg liberals formed a iew government. The first point of its official program was that it sought cordial terms with Poland, and, while it would watch over the independence of the city and the maintenance of all treaties, it would abstain from any "provacative nationalistic gestures". Danzig was trying to fmd a way to live in its new world. The letterboxes had done more than assist in the delivery of the mail.

Danzig - Gestern und Heute


On Page 16: A 1938 photo from the point at which the Radunia Canal flows into the river. It wasn't until our fifth trip to Danzig that our friend Donna mentioned a "new view" and drove us to that location. The color photo (May 1993) shows how deja vu can suddenly invade one's thoughts. As you know, the Esperanto Congress cards of 1927 illustrated a similar view on Michel P38-0121,11 and P39-0121,11 in green. Also, see P40-0121,11 in red and P50-019, P56-019 and P61-019 in black. Thc illustrations (an etching by Hellingrath) are identical, but the caption changes from Johannisk irche DANZIG Preejo de S.Johano to Danzig, an der Mottlau mit Johann is=u. Marienicirche.



Danzig Report Vol. 1 - Nr. 82 - January - February - March - 1994, Page 17.
Hits: 862

Added: 06/07/2015
Copyright: 2021 Danzig.org