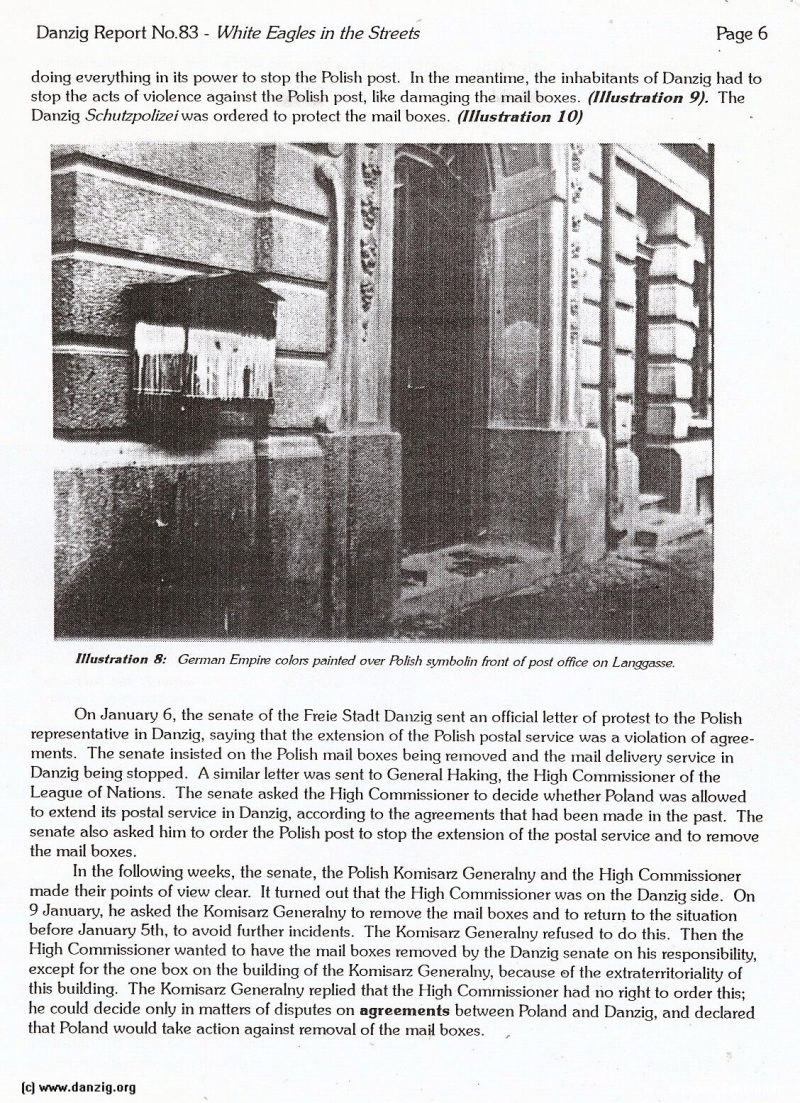 doing everything in its power to stop the Polish post. In the meantime, the inhabitants of Danzig had to stop the acts of violence against the Polish post, like damaging the mail boxes. ('illustration 9,). The Danzig Schulzpolizei was ordered to protect the mail boxes. (illustration 10)

On January 6, the senate of the Freie Stadi Danzig sent an official letter of protest to the Polish representative in Danzig, saying that the extension of the Polish postal service was a violation of agreem ents. The senate insisted on the Polish mail boxes being removed and the mail delivery service in Danzig being stopped. A similar letter was sent to General Haking, the High Commissioner of the League of Nations. The senate asked the High Commissioner to decide whether Poland was allowed to extend its postal service in Danzig, according to the agreements that had been made in the past. The senate also asked him to order the Polish post to stop the extension of the postal service and to remove the mail boxes.

In the following weeks, the senate, the Polish Komisarz Generalny and the High Commissioner made their points of view clear. It turned out that the High Commissioner was on the Danzig side. On 9 January, he asked the Komisarz Generalny to remove the mail boxes and to return to the situation before January 5th, to avoid further incidents. The Korimisarz Generalny refused to do this. Then the High Commissioner wanted to have the mail boxes removed by the Danzig senate on his responsibility, except for the one box on the building of the Koniisarz Generalny, because of the extraterritoriality of this building. The Komisarz Generalny replied that the High Commissioner had no right to order this; he could decide only in matters of disputes on ogreements between Poland and Danzig, and declared that Poland would take action against removal of the mail boxes.



Danzig Report Vol. 1 - Nr. 83 - April - May - June - 1994, Page 6.
Hits: 1017

Added: 09/07/2015
Copyright: 2021 Danzig.org