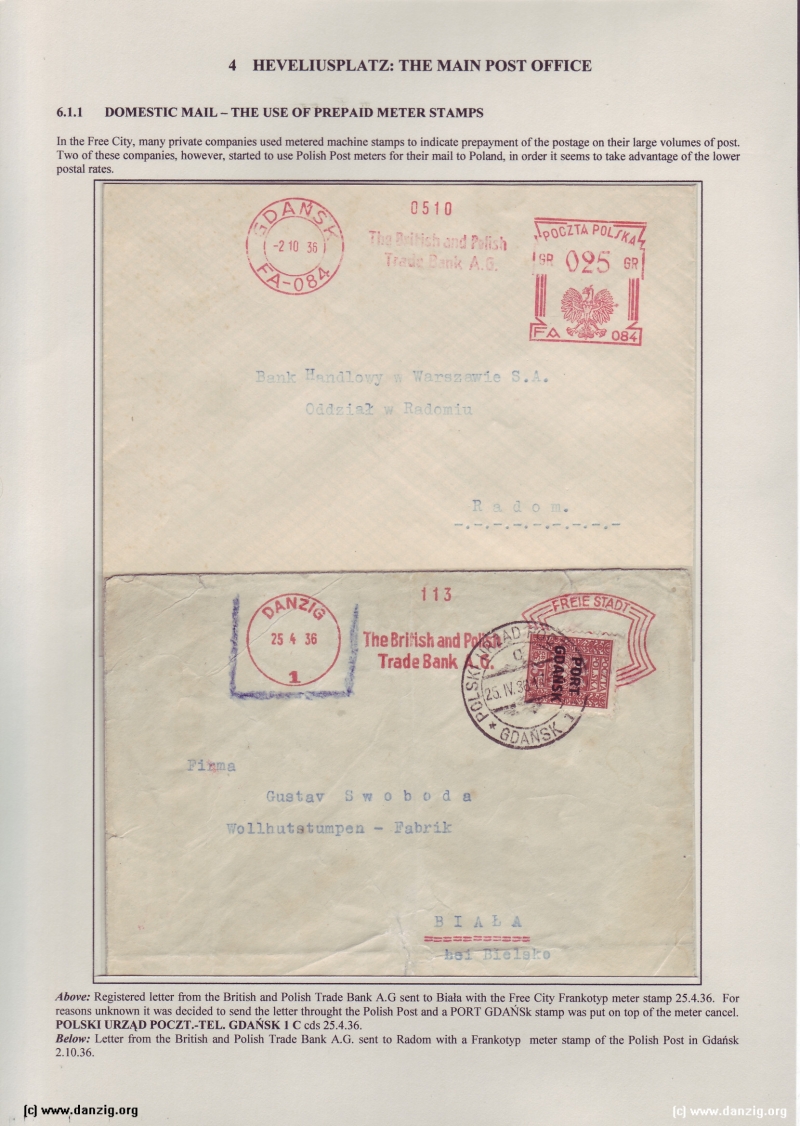 >> THE POLISH POST IN THE FREE CITY OF GDAŃSK 1920 - 1939
>> POCZTA POLSKA W WOLNYM MIEŚCIE GDAŃSKU 1920 - 1939

>> 4 HEVELIUSPLATZ: THE MAIN POST OFFICE
6.1.1 DOMESTIC MAIL — THE USE OF PREPAID METER STAMPS

In the Free City, many private companies used metered machine stamps to indicate prepayment of the postage on their large volumes of post. Two of these companies, however, started to use Polish Post meters for their mail to Poland, in order it seems to take advantage of the lower postal rates.

Above: Registered letter from the British and Polish Trade Bank A.G sent to Biała with the Free City Frankotyp meter stamp 25.4.36. For reasons unknown it was decided to send the letter throught the Polish Post and a PORT GDAŃSK stamp was put on top of the meter cancel. POLSKI URZĄD POCZT.-TEL. GDAŃSK 1 C cds 25.4.36.
Below: Letter from the British and Polish Trade Bank A.G. sent to Radom with a Frankotyp meter stamp of the Polish Post in Gdańsk 2.10.36.

>> >> >>

The Polish Post in the Free City of Gdańsk 1920 - 1939, Page 51.
Hits: 1059

Added: 23/12/2016
Copyright: 2023 Danzig.org