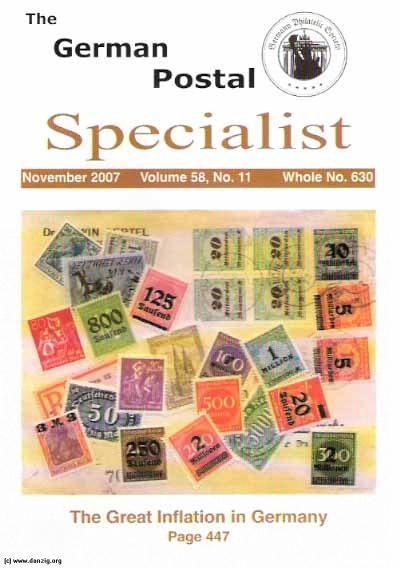 The German Postal Specialist.

- Articles;
The Great Inflation in Germany, Parts 1 and 2, page 447.
by Richard Slater and Jim Graue.
Foreign Stamp Paid Postage on German Rail Route, page 461.
by Benjamin Beede.
The Flight of the LZ-126 to the USA-Revisited, page 465.
by Mike Peter and John Mattler.
Postcheck Advertising Cover, page 469.
by Ingeburg L. Fisher.
An Interesting World War I Cover, page 471.
by Alfred F. Kugel.
Mail Regulations for 'Operation Paperclip' in 1947, page 472.
by George Berndt.

- Columns;
Collector Questions, page 477.
Letters to the Editor, page 399.
New Issues, page 475.
The View From Here; On Picture Postcards, page 445.

- Departments;
Adlets, page 484.
Membership Report, page 481.
Revenue and Expense Statement, page 483.
Hits: 1490

Added: 29/10/2008
Copyright: 2023 Danzig.org