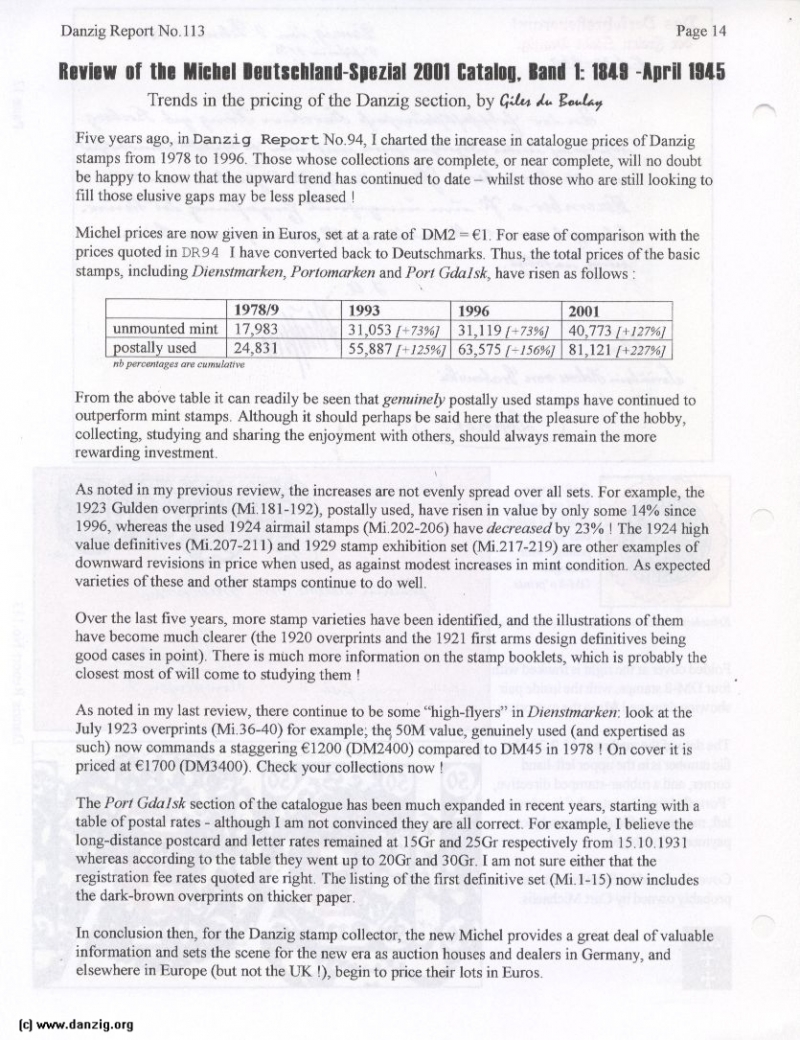 Review of the Michel deutschland-Spezial 2001 Catalog, Band 1: 1849 –April 1945
Trends in the pricing of the Danzig section, by Giles du Boulay

Five years ago, in Danzig Report No.94, 1 charted the increase in catalogue prices of Danzig stamps from 1978 to 1996. Those whose collections are complete, or near complete, will no doubt be happy to know that the upward trend has continued to date — whilst those who are still looking to fill those elusive gaps may be less pleased!

Michel prices are now given in Euros, set at a rate of DM2 €1. For ease of comparison with the prices quoted in DR94 I have converted back to Deutschmarks. Thus, the total prices of the basic stamps, including Diensimarken, Poriomarken and Port Gdalsk, have risen as follows:

From the above table it can readily be seen that genuinely postally used stamps have continued to outpeiform mint stamps Although it should perhaps be said here that the pleasure of the hobby, collecting, studying and sharing the enjoyment with others, should always remain the more rewarding investment

As noted in my previous review, the increases are not evenly spread over all sets. For example, the 1923 Gulden overprints (Mi 18 1-192), postally used, have risen in value by only some 14% since 1996, whereas thc used 1924 airmail stamps (Mi202-206) have decreased by 23% I The 1924 high value definitives (Mi.207-21 I) and 1929 stamp exhibition set (Mi.217-219) arc other examples of downward revisions in price when used, as against modest increases in mint condition. As expected varieties of these and other stamps continue to do well,

Over the last five years, more stamp varieties have been identified, and the illustrations of them have become much clearer (the 1920 overprints and the 1921 first arms design detinitives being good cases in point). There is much more information on the stamp booklets, which is probably the closest most of will come to studying them'

As noted in my last review, there continue to be some "high-flyers" in I)Ienslmark'n: look at the July 1923 overprints (Mi.36'-40) for example, thç 50M value, genuinely used (and expertised as such) now commands a staggering €1200 (DM2400) compared to DM45 in 1978 On cover it is priced at €1700 (DM3400). Check your collections now!

The Port Gdansk section of the catalogue has been much expanded in recent years, starting with a table of postal rates - although I am not convinced they are all correct For example, I believe the long-distance postcard and letter rates remained at I 5Gr and 25Gr respectively from 15.10.1931 whereas according to the table they went up to 2OGr and 3OGr. I am not sure either that the registration fee rates quoted are right The listing of the first definitive set (Mi 1-15) now includes the dark-brown overprints on thicker paper.

In conclusion then, for the Danzig stamp collector, the new Michel provides a great deal of valuable information and sets the scene for the new era as auction houses and dealers in Germany, and elsewhere in Europe (but not the UK !), begin to price their lots in Euros.



Danzig Report Vol. 1 - Nr. 113 - October - November - December - 2001, Page 16.
Hits: 1394

Added: 30/07/2015
Copyright: 2023 Danzig.org