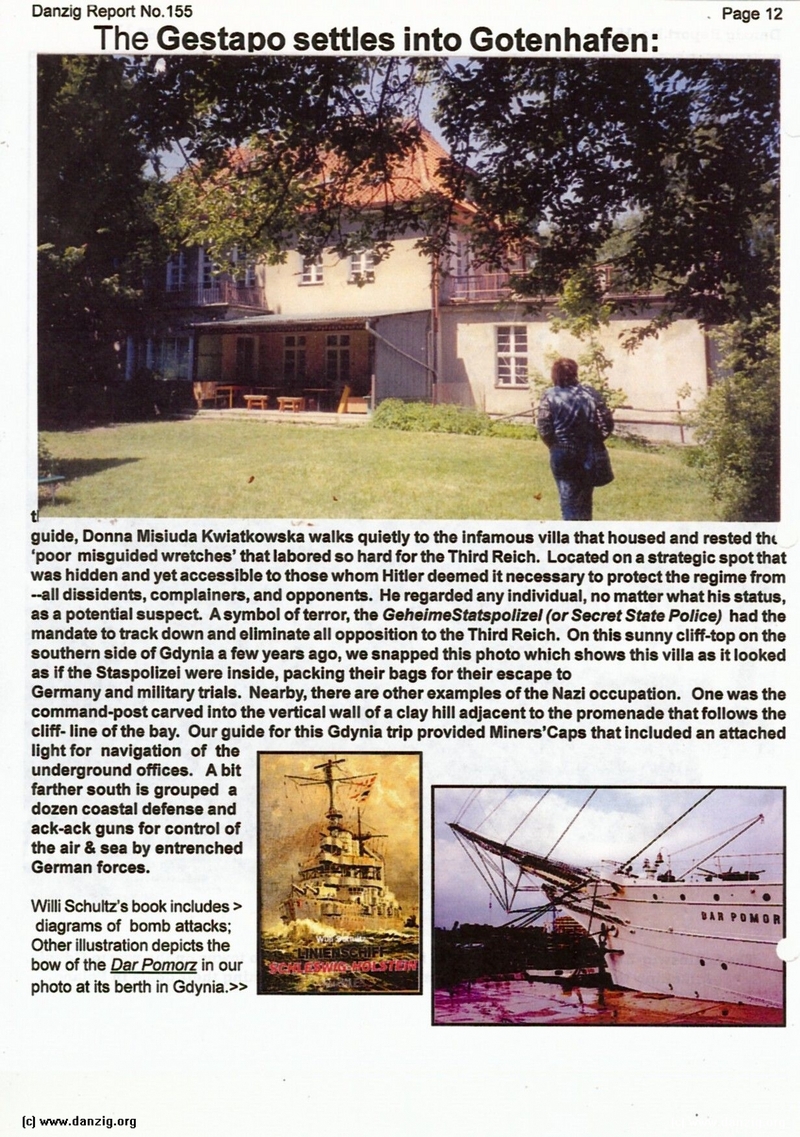 Gotenhafen, Korridor & North Atlantic.
From the Beginning - - - to the End - - - 1938 - 1945.
Danzig's Westerplatte War extends around the World;

The Gestapo settles into Gotenhafen:

Guide, Donna Misiuda Kwiatkowska walks quietly to the infamous villa that housed and rested the 'poor misguided wretches' that labored so hard for the Third Reich. Located on a strategic spot that was hidden and yet accessible to those whom Hitler deemed it necessary to protect the regime from all dissidents, complainers, and opponents. He regarded any individual, no matter what his status, as a potential suspect. A symbol of terror, the Geheime Statspolizei (or Secret State Police) had the mandate to track down and eliminate all opposition to the Third Reich. On this sunny cliff- top on the southern site of Gdynia a few years ago, we snapped this photo wich shows this villa as it looked as if the Staspolizie were inside, packing their bags for escape to Germany and military trials. Nearby, there are other examples of the Nazi occupation. One was the command-post carved into the vertical wall of a clay hill adjacent to the promenade that follows the cliff- line of the bay. Our guide for this Gdynia trip provided Miners' Caps that included an attached light for navigation of the underground offices. A bit farther south is grouped a dozen coastal defense and ack-ack guns for control of the air & sea by entreched German forces.

*-  Willi Schultz's book includes diagrams of bomb attacks,
*-  other illustration depicts the bow of the Dar Pomorza
(Gift of a Province) in our photo at its berth in Gdynia.

Danzig Study Group U.S.A.
Danzig Report Nr. 155 - January - February - March - 2012, Page 12.
Hits: 1720

Added: 04/03/2012
Copyright: 2023 Danzig.org