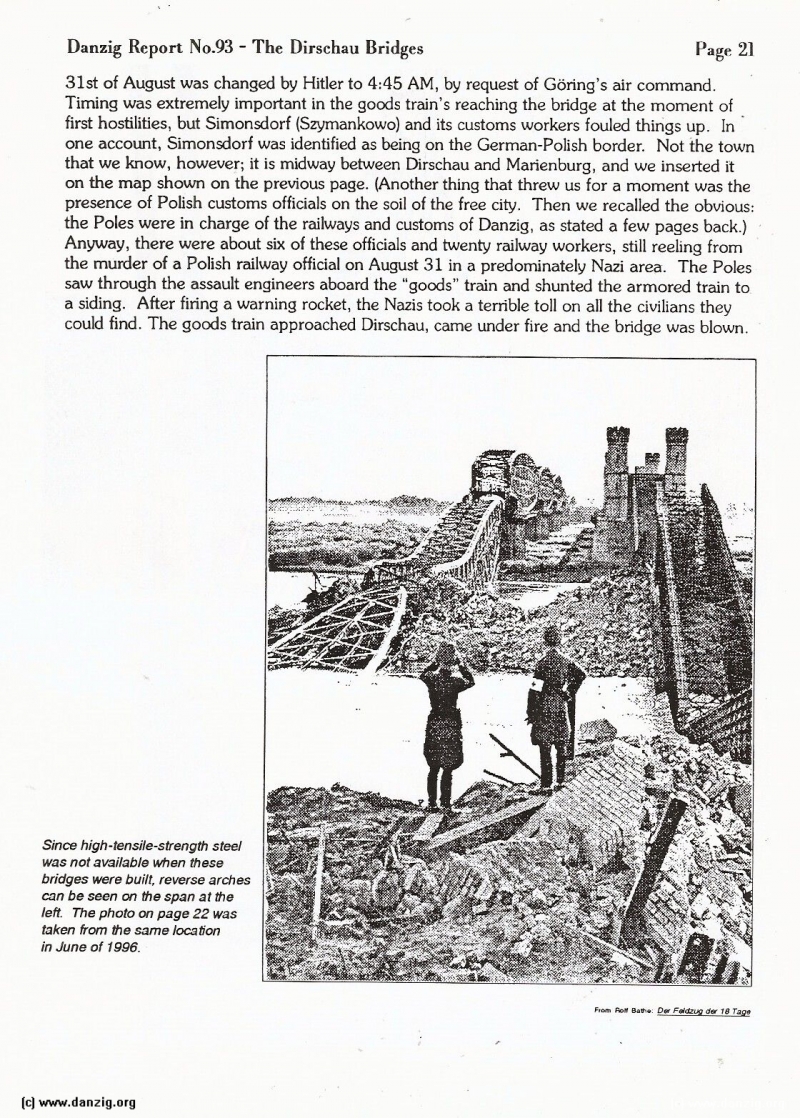 31st of August was changed by Hitler to 4:45 AM, by request of Goring's air command. Timing was extremely important in the goods train's reaching the bridge at the moment of first hostilities, but Simonsdorf (Szymankowo) and its customs workers fouled things up. In one account, Simonsdorf was identified as being on the German-Polish border. Not the town that we know, however; it is midway between Dirschau and Marienburg, and we inserted it on the map shown on the previous page. (Another thing that threw us for a moment was the presence of Polish customs officials on the soil of the free city. Then we recalled the obvious the Poles were in charge of the railways and customs of Danzig, as stated a few pages back.) Anyway, there were about six of these officials and twenty railway workers, still reeling from the murder of a Polish railway official on August 31 in a predominately Nazi area. The Poles saw through the assault engineers aboard the "goods" train and shunted the armored train to a siding. After firing a warning rocket, the Nazis took a terrible toll on all the civilians they could find. The goods train approached Dirschau, came under fire and the bridge was blown.

Since high-tensile-strength steel was not available when these bridges were built. reverse arches can be seen on the span at the left. The photo on page 22 was taken from the same location in June of 1996.



Danzig Report Vol. 1 - Nr. 93 - October - November - December - 1996, Page 21.
Hits: 1096

Added: 19/07/2015
Copyright: 2023 Danzig.org