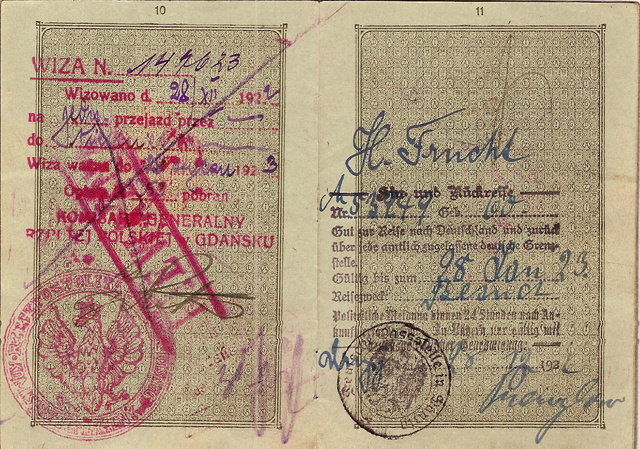 Reisepass Danzig; 1ste ausgabe type b.
Free City Danzig - Passport. First know type of travelpassport of Free City Danzig.
Cover in grey - brouwn-orange, light carton paper with 16 numbered, no watermarked, stapled light gray-beige pages. Passport issued at 12 September 1922 and valid untill 11 September 1923. Passport made out on the name of Hans Frucht at Riotau Kreis Danziger Niederung, born 29 April 1894.

Erste bekante Reise-Pass type b. von Freie Stadt Danzig, ausgegeben Freistadt Danzig am 12ten September 1922 mit unbekante Registers Nr. gültig bis zum 11ten September 1923. Reise-pass auf name von Hrrn. Hans Frucht von Riotau Kreis Danziger Niederung, geboren am 29 April 1894. Mit Stempelausgabe Danzig, Versteuert mit 12 Mark.
Diesen object mit dank erhalten von Hrrn. Volker Masslich, with thanks.
Hits: 1992

Added: 05/03/2008
Copyright: 2023 Danzig.org