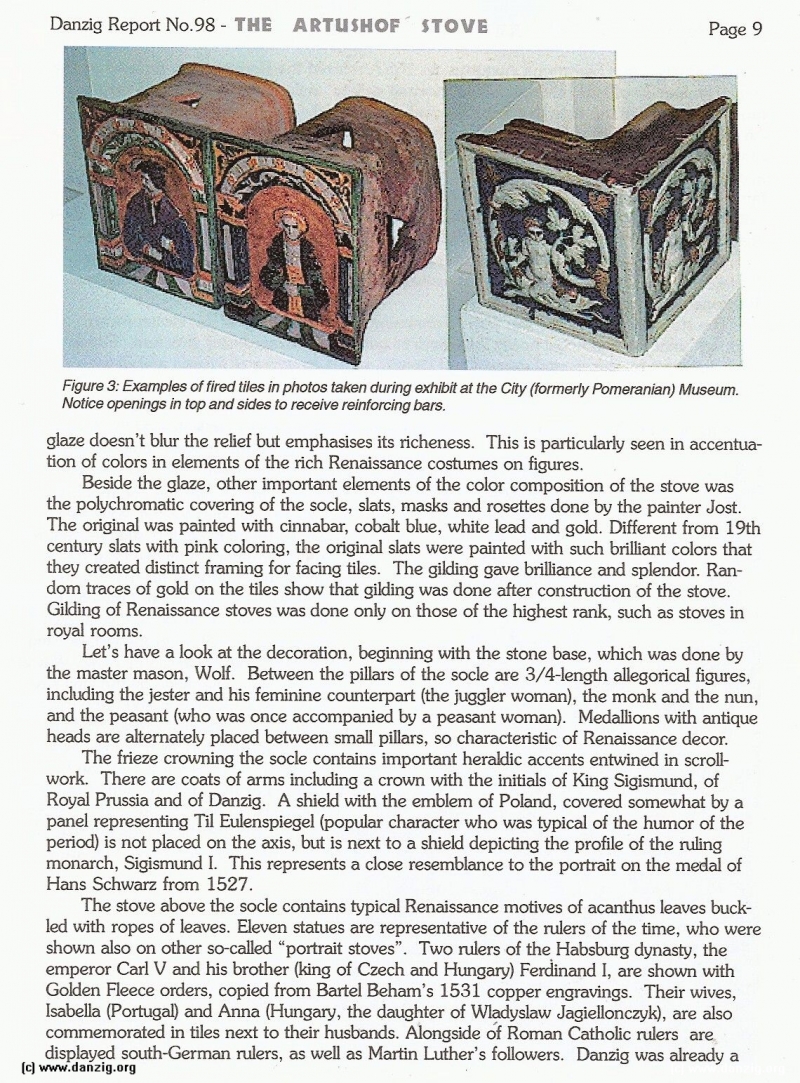 > THE  ARTUSHOF  STOVE

Figure 3: Examples of fired tiles in photos taken during exhibit at the City (formerly Pomeranian) Museum. Notice openings in top and sides to receive reinforcing bars.

glaze doesn't blur the relief but emphasises its richeness. This is particularly seen in accentuation of colors in elements of the rich Renaissance costumes on figures.

Beside the glaze, other important elements of the color composition of the stove was the polychromatic covering of the socle, slats, masks and rosettes done by the painter Jost. The original was painted with cinnabar, cobalt blue, white lead and gold. Different from 19th century slats with pink coloring, the original slats were painted with such brilliant colors that they created distinct framing for facing tiles. The gilding gave briffiance and splendor. Random traces of gold on the tiles show that gilding was done after construction of the stove. Gilding of Renaissance stoves was done only on those of the highest rank, such as stoves in royal rooms.

Let's have a look at the decoration, beginning with the stone base, which was done by the master mason, Wolf. Between the pillars of the socle are 3/4-length allegorical figures, including the jester and his feminine counterpart (the juggler woman), the monk and the nun, and the peasant (who was once accompanied by a peasant woman). Medaffions with antique heads are alternately placed between small pillars, so characteristic of Renaissance decor.

The frieze crowning the socle contains important heraldic accents entwined in scrollwork. There are coats of arms including a crown with the initials of King Sigismund, of Royal Prussia and of Danzig. A shield with the emblem of Poland, covered somewhat by a panel representing Til Eulenspiegel (popular character who was typical of the humor of the period) is not placed on the axis, but is next to a shield depicting the profile of the ruling monarch, Sigismund I. This represents a close resemblance to the portrait on the medal of Hans Schwarz from 1527.

The stove above the socle contains typical Renaissance motives of acanthus leaves buck led with ropes of leaves. Eleven statues are representative of the rulers of the time, who were shown also on other so-called "portrait stoves". Two rulers of the Habsburg dynasty, the emperor Carl V and his brother (king of Czech and Hungary) Ferdinand 1, are shown with Golden Fleece orders, copied from Bartel Beham's 1531 copper engravings. Their wives, Isabella (Portugal) and Anna (Hungary, the daughter of Wiadyslaw Jagiellonczyk), are also commemorated in tiles next to their husbands. Alongside of Roman Catholic rulers are displayed south-German rulers, as well as Martin Luther's followers. Danzig was already a



Danzig Report  Nr. 98 - January - February - March - 1998, Page 9.
Hits: 1500

Added: 20/05/2015
Copyright: 2023 Danzig.org