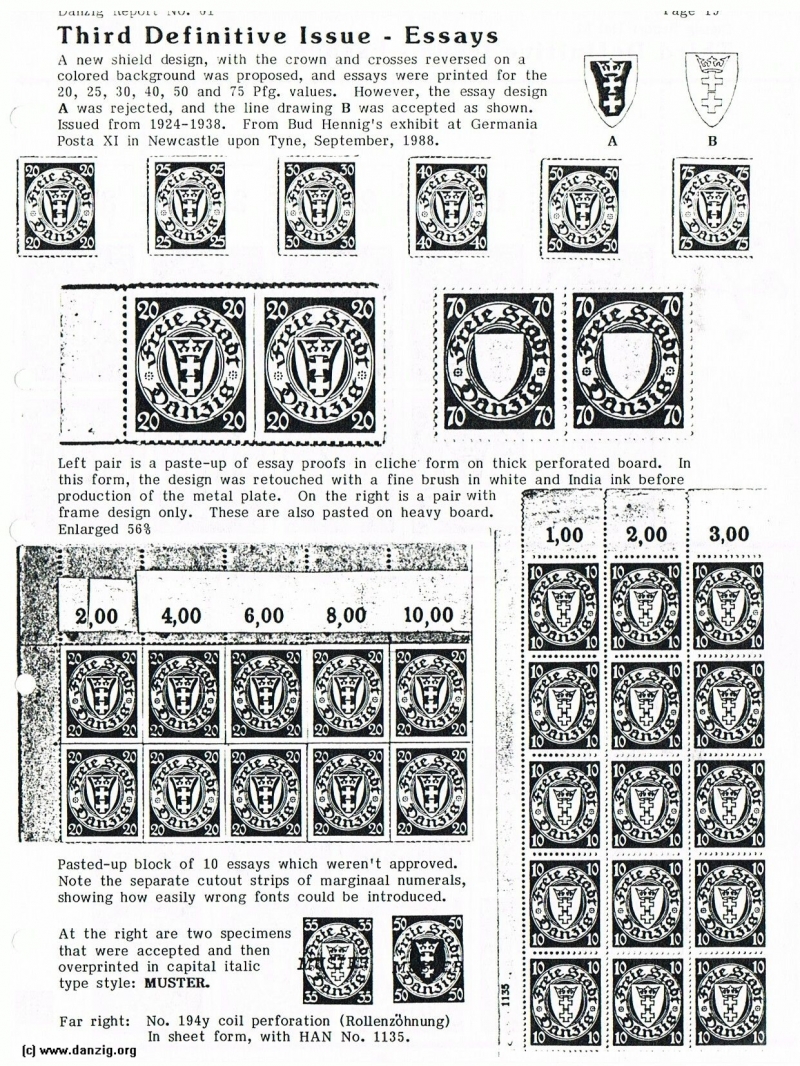 Third Definitive Issue - Essays
A new shield design, with the crown and crosses reversed on a colored background was proposed, and essays were printed for the 20, 25, 30, 40, 50 and 75 Pfg. values. However, the essay design A was rejected, and the line drawing B was accepted as shown. Issued from 1924-1938. From Bud 1-lennig's exhibit at Germania Posta XI in Newcastle upon Tyne, September, 1988.

Left pair is a paste—up of essay proofs in cliche form on thick perforated board. In this form, the design was retouched with a fine brush in white and India ink before production of the metal plate. On the right is a pair with -' frame design only. These are also pasted on heavy board.
Enlarged 56%

Pasted-up block of 10 essays which weren't approved. Note the separate cutout strips of marginaal numerals, showing how easily wrong fonts could be introduced.

At the right are two specimens that were accepted and then overprinted in capital italic type style: MUSTER.

Far right: No. 194y coil perforation (Rollenz3hnung) In sheet form, with I-IAN No. 1135.



Danzig Report Vol. 1 - Nr. 61 - October - November - December - 1988, Page 19.
Hits: 1162

Added: 26/06/2015
Copyright: 2023 Danzig.org