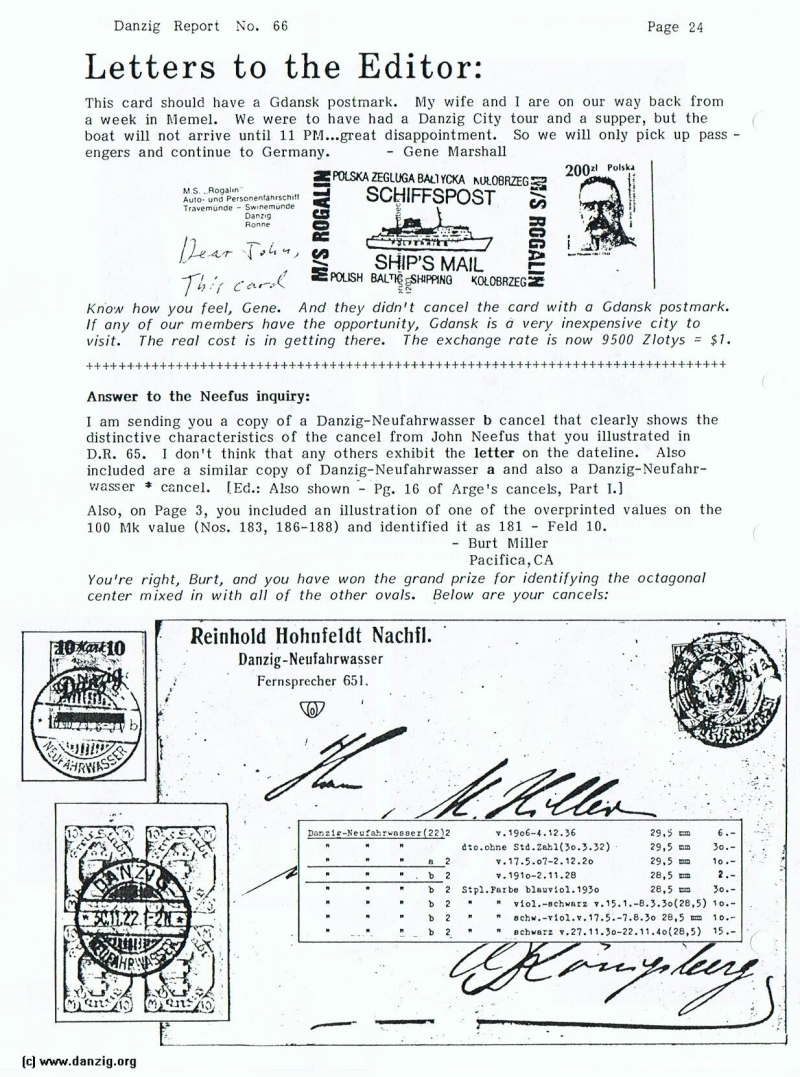 Letters to the Editor:
This card should have a Gclansk postmark. My wife and I are on our way back from a week in fiemel. We were to have had a Danzig City tour and a supper, but the boat will not arrive until 11 PM...great disappointment. So we will only pick up pass - engers and continue to Germany.
— Gene Marshall

Know how you feel, Gene. And they didn't cancel the cord with a Gdonsk postmark. If any of our members hove the opportunity, Gdonsk is a very inexpensive city to visit. The real cost is in getting there. The exchange rote is now 9500 Zlotys = $1.

Answer to the Neefus inquiry:

I am sending you a copy of a Danzig-Neufahrwasser b cancel that clearly shows the distinctive characteristics of the cancel from John Neefus that you illustrated in D.R. 65. I don't think that any others exhibit the letter on the dateline. Also included are a similar copy of Danzig-Neufahrwasser a and also a Danzig—Neufahrw asser * cancel. IEd.: Also shown - Pg. 16 of Arge's cancels, Part I.]

Also, on Page 3, you included an illustration of one of the overprinted values on the 100 Mk value (Nos. 183, 186—188) and identified it as 181 — Feld 10.
— Burt Miller
Pacifica, CA

You're right, Burt, and you hove won the grand prize for identifying the octagonal center mixed in with all of the other ovals. Below are your cancels:




Danzig Report Vol. 1 - Nr. 66 - January - February - March - 1990, Page 24.
Hits: 1161

Added: 28/06/2015
Copyright: 2023 Danzig.org